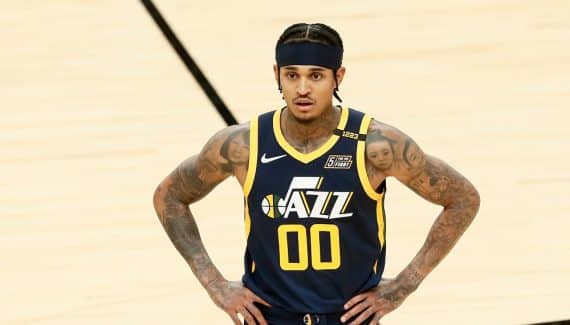 Has the Jazz finished its reconstruction plan? This summer, Rudy Gobert, Donovan Mitchell and finally Bojan Bogdanovic were transferred, and we are talking about the departures of Mike Conley and Jordan Clarkson since several weeks. Except that the latter does not have an exit voucher if we are to believe The Athletic.
" Lakers executives even tried to get Jordan Clarkson back, before Jazz owner Ryan Smith told them he had no intention of letting him go explains Shams Charania.
The former NBA's best sixth man has been through it all since joining the NBA, and it all suits him. He also likes a lot in Salt Lake City where his career really took off.
" I'm happy to be a pro, to stay focused on what I'm doing: come to training, work, be someone who leads by example… And then, I try to be more talkative and communicate any further » he explains. " I'm just trying to be more influential in this area, by talking to guys and sharing my experience. »
A week ago, he confided that the current situation suited him even if he regretted that the management had broken a workforce capable of playing the title. " It's hard to come down from where you were. We won for three years in a row. We had the best record in the league two years ago. Last year wasn't the best, but we still finished in the top four in the West. We had another chance to win a championship and everything was ruined. It's frustrating, but tomorrow is another day and we have to find a solution. »
Jordan Clarkson
Percentage
Bounces
Season
Crew
GM
Minimum
Shots
3 points
LF
Off
Def
Early
pd
party
Int
bp
CT
Points
2014-15
ALL
59
25
44.8
31.4
82.9
1.0
2.3
3.2
3.5
1.9
0.9
1.6
0.2
11.9
2015-16
ALL
79
32
43.3
34.7
80.4
1.2
2.8
4.0
2.4
2.1
1.1
1.7
0.1
15.5
2016-17
ALL
82
29
44.5
32.9
79.8
0.6
2.4
3.0
2.6
1.8
1.1
2.0
0.1
14.7
2017-18 *
All Teams
81
23
45.1
35.2
80.0
0.7
2.0
2.7
2.7
1.3
0.7
1.6
0.1
13.9
2017-18 *
ALL
53
24
44.8
32.4
79.5
0.8
2.2
3.0
3.3
1.2
0.7
1.8
0.1
14.6
2017-18 *
KEY
28
23
45.6
40.7
81.0
0.5
1.6
2.1
1.7
1.6
0.7
1.1
0.1
12.6
2018-19
KEY
81
27
44.8
32.4
84.4
1.0
2.3
3.3
2.4
1.4
0.7
1.7
0.2
16.8
2019-20 *
All Teams
71
24
45.4
36.8
83.6
0.7
1.9
2.6
1.9
1.5
0.7
1.4
0.2
15.2
2019-20 *
UTH
42
25
46.2
36.6
78.5
0.7
2.1
2.8
1.6
1.8
0.7
1.4
0.2
15.6
2019-20 *
KEY
29
23
44.2
37.1
88.4
0.7
1.7
2.4
2.4
1.1
0.6
1.3
0.3
14.6
2020-21
UTH
68
27
42.5
34.7
89.6
0.7
3.3
4.0
2.5
1.6
0.9
1.7
0.2
18.4
2021-22
UTH
79
27
41.9
31.8
82.8
0.9
2.6
3.5
2.5
1.9
0.8
1.6
0.2
16.0
Total
600
27
43.9
33.8
82.7
0.8
2.5
3.3
2.5
1.7
0.9
1.7
0.2
15.4