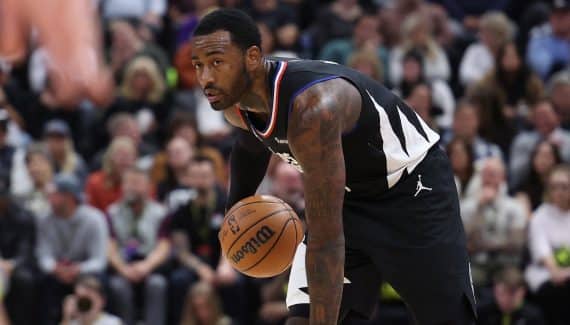 In the middle of the season of rebirth for him, after having gone through very trying times and even having thought about suicide, it is a great moment of emotion that awaits John Wall this Saturday night.
The Clippers playmaker will indeed return to Washington. This is not the first time since his departure in 2020, because on February 15, 2021, he had already faced the Wizards in the capital, under the colors of Houston. Except that that day, in the midst of a pandemic, the match was played behind closed doors.
This Saturday evening, the Capital One Arena will be full and spectators will find the player who shone for a decade in Washington. The franchise has obviously planned a video to pay tribute to him.
"To tell the truth, I just want to win"announces John Wall, who could hold since Reggie Jackson will be left to rest, for ESPN. "I don't want this match to be summed up for me, it's not just about my little person. It's important to me, important to the city because it matters to me. But I don't want it to influence the Clippers. It's a team sport, so I don't want it to go through me. I want us to play a classic match. I don't want it to revolve around me. »
Both teams will need a win as the Wizards have lost four in a row, and seven in eight games, when the Clippers have lost four of the last five. But all eyes will logically be on John Wall for this homecoming.
"I know there are going to be a lot of emotions," concedes the Kentucky alum. "A lot of shouting when I go to touch the ball, score. Washington is my second home. I feel at home here. But the most important thing is to come away with the victory. »
John Wall
Percentage
Bounces
Season
Crew
GM
Minimum
Shots
3 points
LF
Off
Def
Early
pd
party
Int
bp
CT
Points
2010-11
WAS
69
38
40.9
29.6
76.6
0.5
4.1
4.6
8.3
2.5
1.8
3.8
0.5
16.4
2011-12
WAS
66
36
42.3
7.1
78.9
0.7
3.8
4.6
8.0
2.1
1.4
3.9
0.9
16.3
2012-13
WAS
49
33
44.1
26.7
80.4
0.7
3.3
4.0
7.6
2.4
1.3
3.2
0.8
18.5
2013-14
WAS
82
36
43.3
35.1
80.5
0.5
3.6
4.1
8.8
2.7
1.8
3.6
0.5
19.3
2014-15
WAS
79
36
44.5
30.0
78.5
0.5
4.2
4.6
10.0
2.3
1.8
3.9
0.6
17.6
2015-16
WAS
77
36
42.4
35.1
79.1
0.6
4.4
4.9
10.3
2.1
1.9
4.1
0.8
19.9
2016-17
WAS
78
36
45.1
32.7
80.1
0.8
3.4
4.2
10.7
1.9
2.0
4.1
0.6
23.1
2017-18
WAS
41
34
42.0
37.1
72.6
0.5
3.1
3.7
9.6
2.0
1.4
3.9
1.1
19.4
2018-19
WAS
32
35
44.4
30.2
69.7
0.5
3.2
3.6
8.7
2.2
1.5
3.8
0.9
20.7
2020-21
HOO
40
32
40.4
31.7
74.9
0.4
2.8
3.2
6.9
1.2
1.1
3.5
0.8
20.6
2022-23
LAKE
21
22
42.8
29.0
67.0
0.3
2.3
2.6
5.8
1.6
0.9
2.4
0.2
12.6
Total
634
35
43.1
32.2
77.6
0.6
3.7
4.2
9.0
2.2
1.6
3.8
0.7
18.9