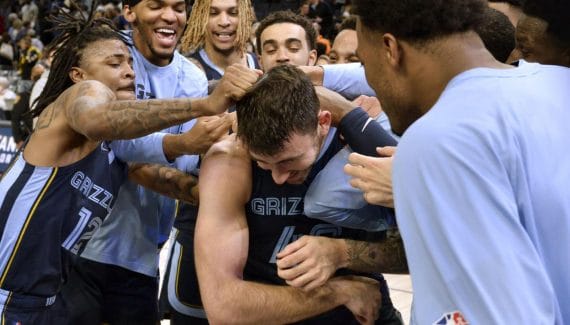 In Memphis, we know that there are Ja Morant and Jaren Jackson Jr. These two are the centerpieces of the Grizzlies system. But behind it, there is also actual work in training.
The story of Killian Tillie, undrafted but recently signed to a real two-year contract, is an example for us French. Desmond Bane is the most blatant illustration of this, or even Dillon Brooks, who has become one of the best "two-way players" of his generation. But John Konchar can also add to that list of unsung and underrated players the Grizzlies have unearthed.
X-factor of Memphis' victory against eye-catching Wolves, Konchar simply had the best game of his career with a double-double on 15 points and 17 rebounds (career best), all at 6/7 on shots including 3/4 at 3-pointers. At 8 points and 10 rebounds, just in the first half, Konchar did even better at the end of the game, with a first tap dunk at the very end of the 3rd quarter. Then another in the last quarter!
"Sometimes the rebounds just come my way", soberly explained the hero of the evening in the Commercial Appeal. " I do not know how to explain it. I manage to know where the ball is going to go. »
A spark among others on the Grizz bench
Konchar was indeed the perfect man for his team last night. Because he was not only essential to recover all these rebounds, but he also delivered 3 assists, including 2 in the last quarter, which helped to grease the wheels of a well ossified attack. And, icing on the cupcake, he delivered his hot public on a 3-pointer which sealed the victory of his people at the last minute of the match.
"He is simply a spark for us off the bench", savored Ja Morant. "He never complains about his role. And he still plays at a very high level. I'm not even sure he realized that he had taken a big shot to make us win. For him, it's just one shot among many. But it was huge for us. »
Undrafted when he left the small college of Purdue Fort Wayne, the former star of the Mastodons is in his third season in Memphis. First signed on a two-way contract, Konchar began to find his place in the rotation last season, obtaining a classic contract. And this year, he confirms his "all around" talent with 5 points, 4 rebounds and 1 assist in 16 minutes on average, and quite simply becoming the best 3-point shooter in the League, with 49%.
"I trust my work. I didn't start the season very well in address but I continued to work in the gym. I shoot as many 3-pointers as possible and it pays off. (…) Same thing for the rebounds, I stick to my bodybuilding program, and I do my job throughout the season. I know I'm not going to jump over my opponents so I try to strengthen my upper body to be able to do the delay screens and get those rebounds. »
John Konchar
Percentage
Bounces
Season
Team
GM
Minimum
Shots
3 points
LF
Off
Def
Early
pd
party
Int
bp
CT
Points
2019-20
SAME
19
10
64.9
50.0
50.0
1.0
1.5
2.5
1.2
0.4
0.4
0.4
0.2
2.8
2020-21
SAME
43
13
50.0
37.5
83.3
0.8
2.2
3.0
1.1
0.9
0.7
0.4
0.2
4.3
2021-22
SAME
35
17
54.5
49.0
56.5
1.1
2.8
3.9
1.3
1.2
0.8
0.4
0.2
4.6
Total
97
14
53.7
43.6
70.9
1.0
2.3
3.2
1.2
0.9
0.7
0.4
0.2
4.1