Basketball News
Joe Harris' rehabilitation more complicated than expected | NBA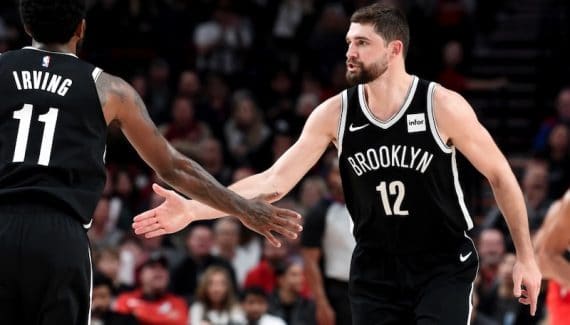 6/8 for Patty Mills, 5/8 for James Harden or even 3/4 for Kevin Durant…
Last night in Chicago, the Nets did not suffer much from the absence of their shooter, Joe Harris, finishing with a very good 17/32 overall behind the 3-point line. The New Yorkers will obviously have to get used to evolving without their man at 46.6% success.
" I think it's more complicated than we imagined., informed Steve Nash. "But one thing we know about Joe is that he's going to do his best and be back as soon as he can. »
His shooter has been stuck in the infirmary since mid-November due to an operation on his left ankle, which finally took place at the end of November. His absence was estimated at the time at one or two months. The winger therefore seems to have fallen behind in his rehabilitation as he is still unable to return to training.
" He is not yet fully ready to do everything. He needs to come back and do his exercises at a high level of intensity. It's not there yet ", continued the technician of Brooklyn.
In the absence of Joe Harris, Steve Nash mainly mobilized Patty Mills to fill the gap in the shoot. The former Spurs met expectations by turning to 15 points on average (39% from afar) in 23 starts.
Joe Harris
Percentage
Bounces
Season
Team
GM
Minimum
Shots
3 points
LF
Off
Def
Early
pd
party
Int
bp
CT
Points
2014-15
KEY
51
10
40.0
36.9
60.0
0.1
0.7
0.8
0.5
1.2
0.1
0.5
0.0
2.7
2015-16
KEY
5
3
25.0
25.0
0.0
0.0
0.6
0.6
0.4
0.2
0.0
0.2
0.0
0.6
2016-17
BRK
52
22
42.5
38.5
71.4
0.3
2.5
2.8
1.0
2.3
0.6
1.1
0.2
8.2
2017-18
BRK
78
25
49.1
41.9
82.7
0.7
2.7
3.3
1.6
2.0
0.5
1.2
0.3
10.9
2018-19
BRK
76
30
50.0
47.4
82.7
0.7
3.1
3.8
2.4
2.4
0.5
1.6
0.2
13.7
2019-20
BRK
69
31
48.6
42.4
71.9
0.9
3.4
4.3
2.1
2.3
0.6
1.5
0.3
14.5
2020-21
BRK
69
31
50.5
47.5
77.8
0.6
3.0
3.6
1.9
2.0
0.7
0.9
0.2
14.1
2021-22
BRK
14
30
45.2
46.6
83.3
0.4
3.6
4.0
1.0
2.2
0.5
1.1
0.1
11.3
Total
414
26
48.3
43.9
78.0
0.6
2.7
3.3
1.6
2.1
0.5
1.2
0.2
11.1