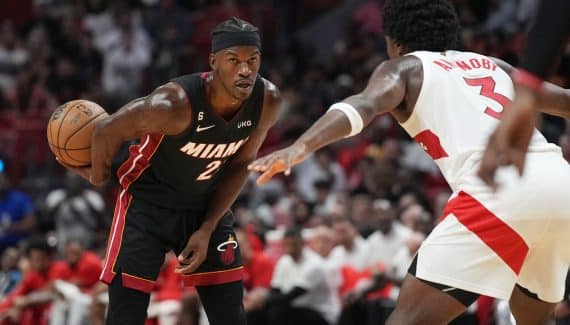 With only two small successes (for five losses) after two weeks of competition, and like the Lakers or the Nets, the Heat have been disappointing so far.
The Floridians' schedule was not the easiest to tackle (Chicago, Boston, Toronto, Portland, Golden State) but they still attacked the season with four straight home games. A luxury of which they benefited little, bowing three times.
Therefore, the question may arise: should we be worried about the 2020 finalists? Not according to Jimmy Butler.
"I don't care what people say. We're still going to win the title." announces the winger for The Athletic. " You can count on us. I'm telling you, we're gonna win this fuckin' title. We have time ahead of us. We just have to play with more urgency, but there are positives, so I'm not discouraged. We can play well, we just have to do it more regularly. »
"It's victory or misery, there's nothing in between"
The former Bulls and Wolves would like to recall that the Heat changed its face this summer, compared to the last few years which were very successful with the Finals in 2020 then a conference final last season.
"I hate when people talk about the past. Yes, we have the same players and on paper it looks the same, but the team is different. Max Strus is not a starter, Tyler Herro is. PJ Tucker is gone, Caleb Martin is part of the major five. Everyone's roles have been changed. It's good, I'm not complaining. »
Optimistic and serene, Jimmy Butler even adds that "two wins and five losses, it's not so bad" and that the Heat can "always finish at 77-5"… Are his observation and his prediction shared by his teammates?
"It's true, f***, yes! », reacts Bam Adebayo. "That's all that matters in the league. It's victory or misery, there's nothing in between. So we aspire to that when we see the banners, the trophies. It is an inspiration for us. We imagine lifting the trophy. We were in the Finals, we played the conference final, now it's time to overcome this obstacle. »
Shots
Bounces
Players
GM
Minimum
Shots
3 points
LF
Off
Def
Early
pd
bp
Int
CT
party
Points
Jimmy Butler
7
35.4
49.0
43.8
85.2
2.0
4.4
6.4
5.1
1.4
1.7
0.1
1.1
21.3
Tyler Herro
7
32.6
46.8
37.5
86.4
0.6
6.0
6.6
2.9
2.0
0.4
0.3
2.1
19.9
Bam Adebayo
7
35.2
53.5
0.0
83.3
2.4
5.6
8.0
2.7
3.6
1.1
1.1
3.3
17.4
Max Strus
7
30.8
43.0
35.3
62.5
1.1
4.3
5.4
1.6
0.9
0.4
0.6
2.0
13.0
Kyle Lowry
7
34.0
35.4
34.1
89.7
0.4
3.3
3.7
5.3
1.9
1.6
0.4
3.3
12.4
Caleb Martin
6
27.4
41.2
42.9
100.0
2.0
2.8
4.8
1.7
0.7
1.8
0.0
2.5
8.7
Gabe Vincent
7
21.1
40.9
30.0
81.8
0.1
1.4
1.6
3.4
1.7
0.4
0.1
2.0
7.3
Duncan Robinson
7
12.0
36.4
36.4
100.0
0.4
1.7
2.1
1.1
0.1
0.0
0.0
1.9
5.0
Dewayne Dedmon
5
10.0
66.7
50.0
0.0
0.4
1.2
1.6
0.4
0.6
0.0
0.0
2.4
3.4
Nikola Jovic
3
7.4
42.9
0.0
0.0
0.3
0.3
0.7
0.3
0.3
0.7
0.0
1.7
2.0
Dru Smith
1
5.6
33.3
0.0
0.0
0.0
1.0
1.0
0.0
0.0
1.0
0.0
1.0
2.0
Udonis Haslem
2
5.1
33.3
0.0
50.0
0.0
1.0
1.0
0.0
0.0
0.0
0.5
0.5
1.5
Haywood Highsmith
4
5.2
20.0
0.0
0.0
0.0
1.0
1.0
0.0
0.5
0.8
0.0
0.3
0.5