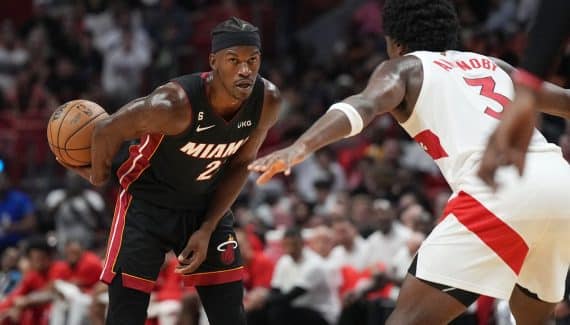 Jimmy Butler had a funny week. Decisive against Phoenix to snatch victory at the last second thanks to his two good defensive sequences on Devin Booker on Monday night, the winger was much more discreet two days later in the loss to Toronto. Worse, he injured his knee.
Unavailable against Washington on Friday night, Jimmy Butler finally returned to Miami Saturday to be reassessed and better cared for while his teammates headed to Ohio. "Jimmy Buckets" is thus forfeited for the last two games of the Floridians road trip, in Cleveland this evening then in Minnesota the next day, and will therefore not return before the meeting against Washington on Wednesday evening, in the best of cases.
The situation remains problematic for Miami, which plays in limited numbers due to injuries. Erik Spoelstra's squad will again have to compose without Udonis Haslem (personal reasons), Tyler Herro (left ankle), Victor Oladipo (left knee) and Omer Yurtseven (left ankle). Even Duncan Robinson (right hand) is doubtful.
Good news is expected regarding Bam Adebayo (left knee), Dewayne Dedmon (sick), and Gabe Vincent (left knee), all three listed as "questionable".
Jimmy Butler
Percentage
Bounces
Season
Crew
GM
Minimum
Shots
3 points
LF
Off
Def
Early
pd
party
Int
bp
CT
Points
2011-12
CHI
42
9
40.5
18.2
76.8
0.6
0.8
1.3
0.3
0.5
0.3
0.3
0.1
2.6
2012-13
CHI
82
26
46.7
38.1
80.3
1.7
2.3
4.0
1.4
1.2
1.0
0.8
0.4
8.6
2013-14
CHI
67
39
39.7
28.3
76.9
1.3
3.6
4.9
2.6
1.6
1.9
1.5
0.5
13.1
2014-15
CHI
65
39
46.2
37.8
83.4
1.8
4.1
5.8
3.3
1.7
1.8
1.4
0.6
20.0
2015-16
CHI
67
37
45.5
31.1
83.2
1.2
4.2
5.3
4.8
1.9
1.6
2.0
0.6
20.9
2016-17
CHI
76
37
45.5
36.7
86.5
1.7
4.5
6.2
5.5
1.5
1.9
2.1
0.4
23.9
2017-18
MIN
59
37
47.4
35.0
85.4
1.3
4.0
5.3
4.9
1.3
2.0
1.8
0.4
22.2
2018-19 *
All Teams
65
34
46.2
34.7
85.5
1.9
3.4
5.3
4.1
1.7
1.9
1.5
0.6
18.7
2018-19 *
PHL
55
33
46.1
33.8
86.8
1.9
3.4
5.3
4.0
1.7
1.8
1.5
0.5
18.2
2018-19 *
MIN
10
36
47.1
37.8
78.7
1.6
3.6
5.2
4.3
1.8
2.4
1.4
1.0
21.3
2019-20
MIA
58
34
45.5
24.4
83.4
1.8
4.8
6.7
6.0
1.4
1.8
2.2
0.6
20.0
2020-21
MIA
52
34
49.7
24.5
86.3
1.8
5.1
6.9
7.1
1.4
2.1
2.1
0.4
21.5
2021-22
MIA
57
34
48.0
23.3
87.0
1.8
4.1
5.9
5.5
1.5
1.7
2.1
0.5
21.4
2022-23
MIA
13
36
48.3
35.5
90.1
2.0
4.6
6.6
6.1
1.6
1.8
1.7
0.2
20.9
Total
703
33
46.1
32.1
84.3
1.6
3.8
5.3
4.2
1.5
1.6
1.6
0.5
17.8