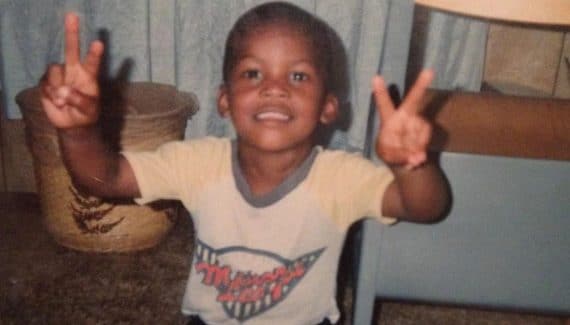 "I don't like your look. Go away ". These were the last words Jimmy Butler heard from his mother. He was 13 years old. His father had left years before, and the young teenager was thrown into the streets of Tomball, Texas, with no money and no family to take refuge with. With the only feeling of being abandoned by all.
" Please I know you are going to write something on me. But I ask you, don't write something to make people feel sorry for me"He asked to Chad Ford in 2011. " I hate that. There is nothing to feel sorry for. I like what happened to me. It made me who I am. I'm glad I faced it all. Please don't your readers take pity on me".
Taken in at the age of 17 by a family with seven children
Yet Jimmy Butler's adolescence does look like a nightmare. For years, he will sleep with friends going from one family to another, just hoping to spend the night in the warmth.
"It's been disproportionately exaggerated, times a thousand. I didn't live under a bridge either, that's being homeless. Or on a street corner asking for coins, that wasn't it either. I'm not going to say it was an easy time, don't get me wrong, but I had a house. Even several houses. I had people around me, I love Tomball for that. "
Until the age of 17, he went from family to family, from sofa to sofa, until he met Jordan Leslie on the basketball courts. The two high school students compete in a 3-point competition and become friends. Jimmy Butler takes the opportunity to stay in bed as often as possible. Usually it only lasts a few weeks but this time he gets a real place in the family, does his chores and ends up becoming Michelle Lambert's eighth child.
" I told him my kids see him as an example", Confides this woman initially reluctant because the family does not roll on gold and there are already people to feed. " He had to avoid problems. He had to work hard at school. He had to be a model. And you know what ? Jimmy did it. Everything I asked him he did without asking questions".
Upstairs, in his friend Jordan's room, so as not to be seen (and disturbed), young Jimmy will gradually regain his balance. Finally stabilized, the young basketball player must catch up. But his exploits in high school did not attract the big universities.
Mississippi State would have been interested, but without going so far as to offer him a scholarship. Suddenly, without having the embarrassment of the choice, it is at Tyler Community College, in North Texas, that he decides to pursue his dream. "This is literally how I live: from day to day", then declared the young Jimmy. "The NBA is one of my goals. But I'm not there yet. I can't afford to relax my concentration. "
Marquette's phone call
Jimmy Butler must therefore take back roads to pursue his dream of the NBA, and that goes through a "junior college", like Dennis Rodman or Ben Wallace in their time. The missing link then is Joe Fulce, a player who had signed up to New Orleans college to play under Buzz Williams in 2007. But Williams will only stay in Louisiana for a year to join the staff of Tom Crean in Marquette. Instead of NOLA, Joe Fulce will land at Tyler Community College as well. His roommate? Jimmy Butler …
"I called Joe to let him know that I had just been appointed head coach, and Joe asked me if I didn't want to sign Jimmy", remembers Buzz Williams on CBS Sports. I replied, 'I don't know, what do you think?' He told me he was good and then I accepted because, of course, you can sign seven players. He then gave it to me on the phone and I chatted with him a bit. 'Hey, Jimmy, you want to come to Marquette' and he said, 'Yes sir, I want to come'. OK, I'm sending you the papers. The signing day was the following week, April 15, and Jimmy went to McDonald's to fax his letter. "
Incredulous in the car parked in the parking lot of the local McDonald's, Jimmy Butler, then top scorer of his team with 18 points, 8 rebounds and 3 assists to average to Tyler JuCo, sees a first of his dreams come true: "I'm going to be able to go to college, and get a degree. It was one of my dreams, one of my goals. "
Naive, Jimmy Butler arrives in Wisconsin from Texas, without a down jacket or winter coat. A hell of a climate change for the warm-blooded Texan. Jimmy Butler stands out in the landscape of Marquette.
"One day he was wearing a pink onesie, and the next he was wearing boots and a cowboy hat," smiles Junior Cadougan. "He wore those pink pajamas all day, in class and in training. Another day he could come up wearing his skateboard clothes, and the next day he had his fingernails painted black. "
"It was anti-Jimmy. He was exhausted, out of shape. He even tried to give up seven or eight times. After a training, he came to see me to tell me that he was quitting "
A tad Dennis Rodman for questionable wardrobe choices, Jimmy Butler also kept his outspokenness and bravado: "He used the word whore as an adjective, verb, adverb, noun and pronoun", laughs Rob Frozena, his teammate.
"I have a video of Jimmy during our junior season", recalls former Nanterre player Dwight Buycks. "We had a computer room in the dormitories and we had to finish an assignment for a class. And this guy was in cowboy boots, with the hat, tight jeans – Wranglers – and a long-sleeved shirt buttoned all the way up. I challenged him to wear this all day on campus. And he did! "
Barred by Wes Matthews during his first year at Marquette, Jimmy Butler will instead become a complete player for his junior and senior seasons, with around 15 points, 6 rebounds and 2 assists per game. But it didn't happen in a snap.
To tell the truth, it is in Marquette, under the inflexible authority of Buzz Williams (also a badass) that Jimmy Butler forged his new identity. "The Jimmy everyone knows now is not the one we saw arriving here", remembers Dale Layer, Marquette's assistant coach at the time. "It was anti-Jimmy. He was exhausted, out of shape. He even tried to give up seven or eight times. After training, he came to me to tell me he was quitting. And I just said to him: come back tomorrow. And he still wanted to stop: Buzz makes me run too much. But that's because you're a good player, Jimmy, but you're not in good shape and not tough enough. Two days later, he comes back again: I'm ready to stop everything again. What's wrong now, Jimmy? I can't find any grits. We're in Milwaukee, there's no gru [une purée de maïs moulu] here. I then told him to come over to the house and my wife cooked him some "grits" for breakfast. "
A child of the South of the United States if there was one, also a great fan of country music, Jimmy Butler had to reinvent himself in Wisconsin and its endless winters. Under the leadership of Buzz Williams, the skinny winger has turned into a complete player. Not without clashes like their first meeting.
"He told me that I was terrible to shit", laughs Jimmy Butler. "That I was just good at doing the show. That I only cared about myself and that he would show me what to do if I ever played for him. "
He becomes a "franchise player" at 30
First sent to coal on defensive missions, in particular against Marshon Brooks of Providence, or Kemba Walker of UConn, Jimmy Butler will end up being one of the main options of the attack of Marquette. A hell of a tour de force for the kid from Tomball with the twisted shoot …
"Habits have changed Jimmy", concludes Layer in The Athletic. "Jimmy accepted Buzz's habits right away and they became his. That's what changed him. There is no reason Jimmy Butler is one of the top ten players in the world, except that he changed his ways to become as tough as he is today. "
After two good last seasons at Marquette, Jimmy Butler finally appeared in the 2011 Draft. There, he impressed during the camps before being chosen by Chicago in 30th position. Ten years later he's become an NBA superstar, one of the highest paid players, and as he turns 32 he's the Heat's franchise player. In the NBA, he also went from family to family, from the Bulls to the Wolves, then to the Sixers. He was labeled a difficult player to manage, and he even went to the tussle to leave Minnesota.
Finally, Butler just needed to find a family atmosphere with leaders and players who share his values. It will be at the Heat to take over from Dwyane Wade, a friend and mentor, passed like him by the Bulls and Marquette. One way to come full circle and prove that he can be this player around whom we can build a team, even a family.
"I learned from the best. They taught me how to play and how to be a man " he concludes. "I knew that to be successful I had to be more than a striker. I had to be a leader. It was not enough for me to score points, I had to do what the team needed. I wanted to be the soul of the team, someone my coach could count on. That's what I wanted to be ".
Photo credit : Bulls.com
Jimmy butler
Percentage
Rebounds
Season
Team
MJ
Min
Shots
3pts
LF
Off
Def
Early
Pd
Fte
Int
Bp
Ct
Pts
2011-12
CHI
42
9
40.5
18.2
76.8
0.6
0.8
1.3
0.3
0.5
0.3
0.3
0.1
2.6
2012-13
CHI
82
26
46.7
38.1
80.3
1.7
2.3
4.0
1.4
1.2
1.0
0.8
0.4
8.6
2013-14
CHI
67
39
39.7
28.3
76.9
1.3
3.6
4.9
2.6
1.6
1.9
1.5
0.5
13.1
2014-15
CHI
65
39
46.2
37.8
83.4
1.8
4.1
5.8
3.3
1.7
1.8
1.4
0.6
20.0
2015-16
CHI
67
37
45.5
31.1
83.2
1.2
4.2
5.3
4.8
1.9
1.6
2.0
0.6
20.9
2016-17
CHI
76
37
45.5
36.7
86.5
1.7
4.5
6.2
5.5
1.5
1.9
2.1
0.4
23.9
2017-18
MIN
59
37
47.4
35.0
85.4
1.3
4.0
5.3
4.9
1.3
2.0
1.8
0.4
22.2
2018-19 *
All Teams
65
34
46.2
34.7
85.5
1.9
3.4
5.3
4.1
1.7
1.9
1.5
0.6
18.7
2018-19 *
PHL
55
33
46.1
33.8
86.8
1.9
3.4
5.3
4.0
1.7
1.8
1.5
0.5
18.2
2018-19 *
MIN
10
36
47.1
37.8
78.7
1.6
3.6
5.2
4.3
1.8
2.4
1.4
1.0
21.3
2019-20
MIA
58
34
45.5
24.4
83.4
1.8
4.8
6.7
6.0
1.4
1.8
2.2
0.6
20.0
2020-21
MIA
52
34
49.7
24.5
86.3
1.8
5.1
6.9
7.1
1.4
2.1
2.1
0.4
21.5
2021-22
MIA
18
34
50.9
19.4
85.2
1.6
4.2
5.8
5.2
1.6
2.2
1.9
0.3
22.8
Total
651
33
46.0
32.5
83.8
1.5
3.7
5.3
4.0
1.4
1.7
1.6
0.5
17.5