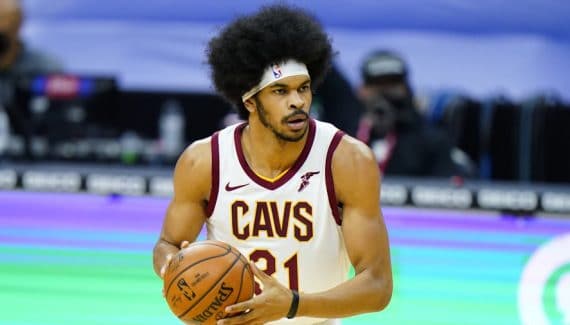 In agreement with the player, the Cavs medical staff made the decision not to proceed with surgery on the left middle finger of his pivot. Jarrett Allenwho has been suffering from a fracture for ten days.
The plan is to let the player's middle finger heal "naturally" and see how the injury progresses day by day. With that option, the All-Star inside can still hope to return before the end of the regular season, perhaps with a brace near the end of his recovery.
For now, his middle finger is still swollen and no return schedule has yet been announced. In his absence, the Cavs signed Moses Brown on a ten-day contract, while Evan Mobley now plays center.
Jarrett Allen
Percentage
Bounces
Season
Team
GM
Minimum
Shots
3 points
LF
Off
Def
Early
pd
party
Int
bp
CT
Points
2017-18
BRK
72
20
58.9
33.3
77.6
2.0
3.4
5.4
0.7
2.0
0.4
1.1
1.2
8.2
2018-19
BRK
80
26
59.0
13.3
70.9
2.4
6.0
8.4
1.4
2.3
0.5
1.3
1.5
10.9
2019-20
BRK
70
27
64.9
0.0
63.3
3.1
6.5
9.6
1.6
2.3
0.6
1.1
1.3
11.1
2020-21 *
All Teams
63
30
61.8
31.6
70.3
3.1
6.9
10.0
1.7
1.5
0.5
1.6
1.4
12.8
2020-21 *
KEY
51
30
60.9
31.6
69.0
3.1
6.8
9.9
1.7
1.5
0.5
1.5
1.4
13.2
2020-21 *
BRK
12
27
67.7
0.0
75.4
3.2
7.3
10.4
1.7
1.8
0.6
1.8
1.6
11.2
2021-22
KEY
56
32
67.7
10.0
70.8
3.4
7.3
10.8
1.6
1.7
0.8
1.7
1.3
16.1
Total
341
27
62.6
18.9
69.9
2.8
5.9
8.7
1.4
2.0
0.6
1.3
1.4
11.6