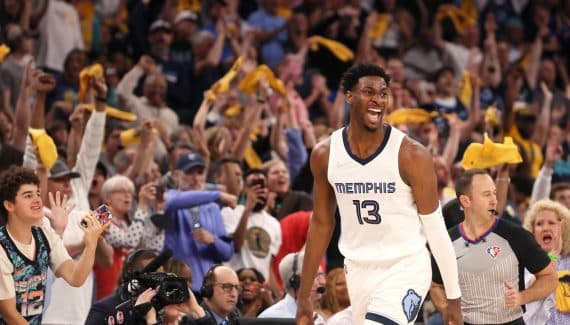 Like the Bucks with Khris Middleton, the Grizzlies started the regular season with a notable absentee since Jaren Jackson Jr. has been away from the prosecution since July and an operation on the right foot.
His absence was then estimated to be between four and six months. Now that the first four months have passed, where is the interior of Memphis?
"Next week he could well start the five-against-five"announces Taylor Jenkins at the Commercial Appeal. "We will see how his body reacts. »
Ja Morant's teammate went two-on-two, then three-on-three in practice during the Grizzlies' recent road trip. Taylor Jenkins' troops returned to Tennessee on Friday and will remain there until Nov. 9 and a trip to San Antonio.
During these few days at home, Jaren Jackson Jr. should therefore get closer to a return to competition with the five-against-five, the last step before returning to the courts.
"His physical condition is improving," continues the Grizzlies coach. "We push him hard, we make him do a lot of exercises. He was particularly serious and he made good progress. »
Shots
Bounces
Players
GM
Minimum
Shots
3 points
LF
Off
Def
Early
pd
bp
Int
CT
party
Points
Ja Morant
7
32.6
52.5
51.9
85.7
1.1
4.0
5.1
6.4
4.0
0.9
0.4
2.0
31.4
Desmond Bane
7
33.5
44.1
46.9
86.5
0.6
4.6
5.1
5.0
2.3
0.7
0.4
2.4
24.9
Dillon Brooks
5
27.8
39.7
40.7
66.7
0.2
1.8
2.0
1.6
1.4
0.8
0.0
2.8
14.6
Tyus Jones
8
25.4
44.3
36.8
37.5
0.4
1.6
2.0
4.4
1.4
0.8
0.1
0.8
11.9
Santi Aldama
8
29.4
43.9
28.6
68.4
2.1
4.1
6.3
0.9
0.6
0.6
1.3
2.9
9.9
Brandon Clarke
8
16.8
63.8
0.0
64.7
0.9
2.8
3.6
1.3
1.1
0.4
0.6
2.4
8.9
John Konchar
7
26.6
46.7
40.0
50.0
1.4
3.7
5.1
1.0
0.6
1.7
0.3
1.7
7.9
Jake Laravia
5
18.2
52.2
60.0
100.0
1.2
2.8
4.0
0.4
0.4
0.4
0.4
3.4
7.2
steven adams
8
26.8
57.9
0.0
28.6
3.9
6.3
10.1
2.4
2.1
0.6
1.5
2.5
6.3
David Roddy
8
20.0
30.8
22.6
83.3
0.9
2.3
3.1
1.0
0.6
0.9
0.4
2.1
5.5
Xavier Tillman, Sr.
5
11.9
55.6
33.3
28.6
1.6
1.8
3.4
0.6
0.8
0.0
0.4
0.6
4.6
Kenny Lofton, Jr.
3
4.7
44.4
0.0
33.3
0.3
0.3
0.7
0.3
0.0
0.0
0.0
1.0
3.0
Kennedy Chandler
4
8.9
33.3
0.0
25.0
0.0
0.3
0.3
1.5
1.0
0.0
0.5
0.5
1.8
Vincent Williams, Jr.
2
5.5
20.0
0.0
0.0
0.5
1.0
1.5
0.5
0.0
0.5
0.0
1.0
1.0