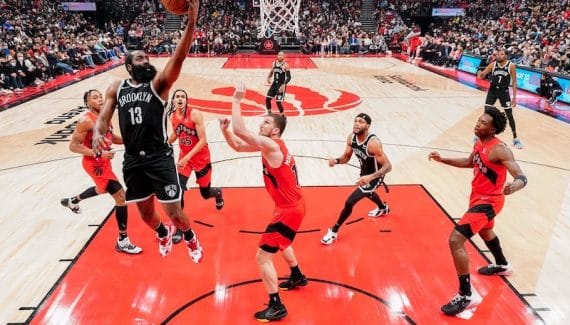 Svi Mykhailiuk had a choice to make. Go out on James Harden or cover Blake Griffin in the corner? Placed in the second line of Nick Nurse's area, the Ukrainian tried the jump ball and the bearded man found himself all alone. To ignore him, after he has just missed his first seven attempts, can be understood.
But do it with less than five minutes to play against such players … Because, obviously, the left-hander converted his shot to give his team a ten-point lead. This shoot ended up freeing James Harden who took control of the "money time" by scoring 16 (6/8 on shots) of his 28 points in total. A performance qualified as " special By Kevin Durant after this victory in Toronto.
It was the first time this season that the former Rockets player, accustomed to "stuffing himself" in recent years, reached the bar of 20 shots attempted (10/20).
" I think that in the first half, he did not give himself enough merit ", judge also his trainer, Steve Nash, in reference to the clumsiness of his player, compensated by his creation without too much waste (8 passes and 2 lost balls). He had opportunities to attack more, I tried to get him to go in and be aggressive. In the second half, he was excellent. The game (tonight), the one against Atlanta, the games he enters, he can really pose a lot of problems for the defense. "
Finding the right balance
We would tend to forget him since he wears the Nets jersey. His coach would like to see him attack the circle more even if his leader would be wrong to deprive himself of his 3-point shot. With nearly 40% success this season, he is on the basis of his best career production.
The concern is that it shoots with an identical rate inside the arc. This awkwardness, coupled with the drastic decrease in his free-throw volume, has dropped his points average to 19 units so far.
" We talked about it at halftime ", reports Blake Griffin, convinced that the Nets change dimension with this version of the bearded man. "Kevin told him to be aggressive. Sometimes he would try to facilitate (for others) a little too much and too soon. Which is never a bad thing since he gave us good shots. But when he's aggressive, the defensive strategy has to change. He's found a good balance lately. "
As proof, his stats on the last five matches (only victories): 20.8 points, 9.8 assists, 8.4 rebounds, 45% on shots, 46% on 3-points and 85% on free throws. On the other hand, he still loses as many balls: 4.6 per game! But Russell Westbrook and Paul George are doing worse.
James harden
Percentage
Rebounds
Season
Team
MJ
Min
Shots
3pts
LF
Off
Def
Early
Pd
Fte
Int
Bp
Ct
Pts
2009-10
OKAY
76
23
40.3
37.5
80.8
0.6
2.6
3.2
1.8
2.6
1.1
1.4
0.3
9.9
2010-11
OKAY
82
27
43.6
34.9
84.3
0.5
2.6
3.1
2.2
2.5
1.1
1.3
0.3
12.2
2011-12
OKAY
62
31
49.1
39.0
84.6
0.5
3.6
4.1
3.7
2.4
1.0
2.2
0.2
16.8
2012-13
HOU
78
38
43.8
36.8
85.1
0.8
4.1
4.9
5.8
2.3
1.8
3.8
0.5
25.9
2013-14
HOU
73
38
45.6
36.6
86.6
0.8
3.9
4.7
6.1
2.4
1.6
3.6
0.4
25.4
2014-15
HOU
81
37
44.0
37.5
86.8
0.9
4.7
5.7
7.0
2.6
1.9
4.0
0.7
27.4
2015-16
HOU
82
38
43.9
35.9
86.0
0.8
5.3
6.1
7.5
2.8
1.7
4.6
0.6
29.0
2016-17
HOU
81
36
44.0
34.7
84.7
1.2
7.0
8.1
11.2
2.7
1.5
5.7
0.5
29.1
2017-18

★

HOU
72
35
44.9
36.7
85.8
0.6
4.8
5.4
8.8
2.4
1.8
4.4
0.7
30.4
2018-19
HOU
78
37
44.2
36.8
87.9
0.9
5.8
6.6
7.5
3.1
2.0
5.0
0.7
36.1
2019-20
HOU
68
37
44.4
35.5
86.5
1.0
5.5
6.6
7.5
3.3
1.8
4.5
0.9
34.3
2020-21 *
All Teams
44
37
46.6
36.2
86.1
0.8
7.1
7.9
10.8
2.3
1.2
4.0
0.8
24.6
2020-21 *
BRK
36
37
47.1
36.6
85.6
0.8
7.7
8.5
10.9
2.4
1.3
4.0
0.8
24.6
2020-21 *
HOU
8
36
44.4
34.7
88.3
0.6
4.5
5.1
10.4
1.8
0.9
4.3
0.8
24.8
2021-22
BRK
26
36
40.4
33.7
88.5
0.9
7.0
7.9
9.6
2.4
1.4
5.0
0.7
20.9
Total
903
35
44.3
36.3
85.9
0.8
4.8
5.5
6.6
2.6
1.6
3.8
0.6
25.0