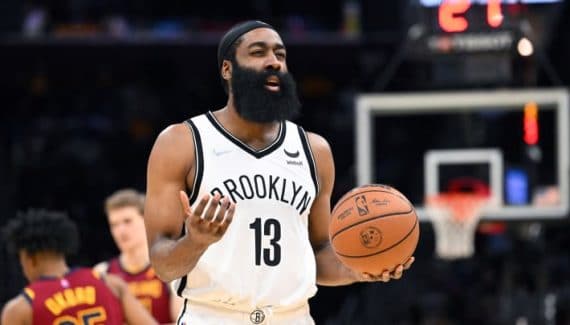 It is because he did not want to find himself in the same media storm as last season that James Harden did not want to formalize his desires to leave. This is announced by ESPN, a few hours before the end of the "trade deadline". But James Harden does want to leave Brooklyn and unsurprisingly, it is to join Philadelphia where Daryl Morey awaits him with open arms.
The Sixers have six hours left to offer an interesting package to the Nets. The pressure is not on their side since they will still be able to afford James Harden this summer since he has a clause to be a free agent. Wednesday, we learned that the discussions were not progressing because the Sixers do not want to let go of Seth Curry.
But the contact is established, and we can expect an exchange with many players. If there is agreement, it will not be a simple "swap" between James Harden and Ben Simmons.
On the Nets side, we are still trying to convince James Harden to stay, convinced that the return of Kevin Durant will allow the team to resume its march forward. It will be the end of February to attack the home stretch, with the last quarter of the regular season to play. But James Harden did not extend last summer, and his desire to leave would be very real. How to play the title with a player who has his mind elsewhere?
One thing is certain: James Harden did not accompany his teammates to Washington for tonight's meeting. Officially, it's to stay with physical trainers.
James Harden
Percentage
Bounces
Season
Team
GM
Minimum
Shots
3 points
LF
Off
Def
Early
pd
party
Int
bp
CT
Points
2009-10
OKAY
76
23
40.3
37.5
80.8
0.6
2.6
3.2
1.8
2.6
1.1
1.4
0.3
9.9
2010-11
OKAY
82
27
43.6
34.9
84.3
0.5
2.6
3.1
2.2
2.5
1.1
1.3
0.3
12.2
2011-12
OKAY
62
31
49.1
39.0
84.6
0.5
3.6
4.1
3.7
2.4
1.0
2.2
0.2
16.8
2012-13
HOO
78
38
43.8
36.8
85.1
0.8
4.1
4.9
5.8
2.3
1.8
3.8
0.5
25.9
2013-14
HOO
73
38
45.6
36.6
86.6
0.8
3.9
4.7
6.1
2.4
1.6
3.6
0.4
25.4
2014-15
HOO
81
37
44.0
37.5
86.8
0.9
4.7
5.7
7.0
2.6
1.9
4.0
0.7
27.4
2015-16
HOO
82
38
43.9
35.9
86.0
0.8
5.3
6.1
7.5
2.8
1.7
4.6
0.6
29.0
2016-17
HOO
81
36
44.0
34.7
84.7
1.2
7.0
8.1
11.2
2.7
1.5
5.7
0.5
29.1
2017-18

★

HOO
72
35
44.9
36.7
85.8
0.6
4.8
5.4
8.8
2.4
1.8
4.4
0.7
30.4
2018-19
HOO
78
37
44.2
36.8
87.9
0.9
5.8
6.6
7.5
3.1
2.0
5.0
0.7
36.1
2019-20
HOO
68
37
44.4
35.5
86.5
1.0
5.5
6.6
7.5
3.3
1.8
4.5
0.9
34.3
2020-21 *
All Teams
44
37
46.6
36.2
86.1
0.8
7.1
7.9
10.8
2.3
1.2
4.0
0.8
24.6
2020-21 *
BRK
36
37
47.1
36.6
85.6
0.8
7.7
8.5
10.9
2.4
1.3
4.0
0.8
24.6
2020-21 *
HOO
8
36
44.4
34.7
88.3
0.6
4.5
5.1
10.4
1.8
0.9
4.3
0.8
24.8
2021-22
BRK
44
37
41.4
33.2
86.9
1.0
7.0
8.0
10.2
2.4
1.3
4.8
0.7
22.5
Total
921
35
44.3
36.2
85.9
0.8
4.8
5.6
6.7
2.6
1.6
3.8
0.6
25.0