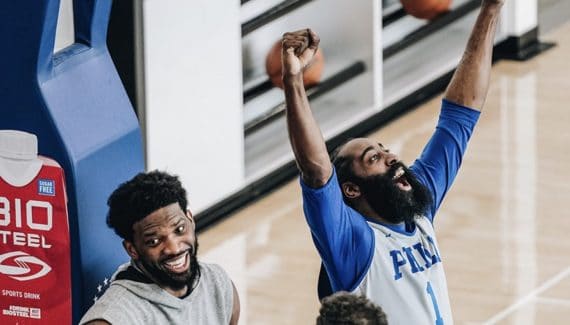 Ben Simmons and James Harden's introductory press conferences took place almost simultaneously. In Philadelphia, "The Beard" was logically asked about his choice to leave Brooklyn. The point guard did not want to go into details, but he did make a statement that will surely get the Nets talking.
"Originally, when I was weighing all my options in Houston, Philadelphia was my first choice. It didn't happen. I had known for a very long time that this was the perfect place. Because there is the best interior in the league with Joel (Embiid)" he thus answered.
The 2018 MVP is thus certain to be able to shine alongside the Cameroonian.
"Joel can do anything on the pitch. There are very smart guys in the team, who communicate, and a coaching staff that puts them in the best possible position to succeed. Something big was happening and I'm here to help. And I know I can do it. When you have talented guys who know the game and only care about winning, then you find solutions."
Philadelphia had been preparing for the arrival of James Harden for a very long time…
What role did the intermittent status of Kyrie Irving play on his desires to leave?
"Very minimal, honestly. Me and Ky are very good friends… But it definitely had an impact on the team. With me, Kyrie and KD on the court, winning could erase a lot of that stuff. It's just unfortunate that we only played 16 games (together). "
Did James Harden really want to join the Sixers as soon as he left Houston? In a very detailed article for FOX SportsYaron Weitzman had a few days ago more or less confirmed that this was the case.
Minority owner of the Sixers, Michael Rubin is thus close to the leader, and the arrival of Daryl Morey as GM was also a way for Philadelphia to try to recover James Harden, which the leader had tried to do by offering Ben Simmons to the Rockets. But ultimately, Houston had chosen Brooklyn's offer.
Because Tilman Fertitta, the Texas owner, didn't want to do business with Daryl Morey, who had taken to their heels some time before? Rather because the offer from Brooklyn was ultimately more interesting in the eyes of the franchise, with a lot of Draft choices and "swaps", the successor of Daryl Morey in Houston, Rafael Stone, having mainly used the Sixers to raise the auction.
It therefore took one more year for Philadelphia to recover their target. But it is now done, James Harden having also noted that he intended to activate his "player option" at 47 million for next year.
James Harden
Percentage
Bounces
Season
Team
GM
Minimum
Shots
3 points
LF
Off
Def
Early
pd
party
Int
bp
CT
Points
2009-10
OKAY
76
23
40.3
37.5
80.8
0.6
2.6
3.2
1.8
2.6
1.1
1.4
0.3
9.9
2010-11
OKAY
82
27
43.6
34.9
84.3
0.5
2.6
3.1
2.2
2.5
1.1
1.3
0.3
12.2
2011-12
OKAY
62
31
49.1
39.0
84.6
0.5
3.6
4.1
3.7
2.4
1.0
2.2
0.2
16.8
2012-13
HOO
78
38
43.8
36.8
85.1
0.8
4.1
4.9
5.8
2.3
1.8
3.8
0.5
25.9
2013-14
HOO
73
38
45.6
36.6
86.6
0.8
3.9
4.7
6.1
2.4
1.6
3.6
0.4
25.4
2014-15
HOO
81
37
44.0
37.5
86.8
0.9
4.7
5.7
7.0
2.6
1.9
4.0
0.7
27.4
2015-16
HOO
82
38
43.9
35.9
86.0
0.8
5.3
6.1
7.5
2.8
1.7
4.6
0.6
29.0
2016-17
HOO
81
36
44.0
34.7
84.7
1.2
7.0
8.1
11.2
2.7
1.5
5.7
0.5
29.1
2017-18

★

HOO
72
35
44.9
36.7
85.8
0.6
4.8
5.4
8.8
2.4
1.8
4.4
0.7
30.4
2018-19
HOO
78
37
44.2
36.8
87.9
0.9
5.8
6.6
7.5
3.1
2.0
5.0
0.7
36.1
2019-20
HOO
68
37
44.4
35.5
86.5
1.0
5.5
6.6
7.5
3.3
1.8
4.5
0.9
34.3
2020-21 *
All Teams
44
37
46.6
36.2
86.1
0.8
7.1
7.9
10.8
2.3
1.2
4.0
0.8
24.6
2020-21 *
BRK
36
37
47.1
36.6
85.6
0.8
7.7
8.5
10.9
2.4
1.3
4.0
0.8
24.6
2020-21 *
HOO
8
36
44.4
34.7
88.3
0.6
4.5
5.1
10.4
1.8
0.9
4.3
0.8
24.8
2021-22
BRK
44
37
41.4
33.2
86.9
1.0
7.0
8.0
10.2
2.4
1.3
4.8
0.7
22.5
Total
921
35
44.3
36.2
85.9
0.8
4.8
5.6
6.7
2.6
1.6
3.8
0.6
25.0