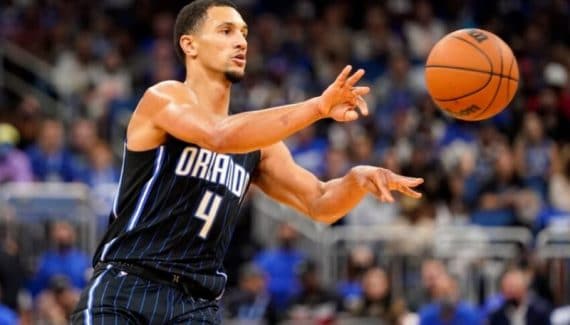 Victim of a broken thumb on November 29 after having had the misfortune to cross paths with Joel Embiid, Jalen Suggs could sign his return tonight, after missing Orlando's last 20 games.
The 5th choice of the last Draft had had a complicated start before gradually gaining momentum in the second part of November. Since his injury, the rear has notably been put to use within the staff of Jamahl Mosley, going so far as to travel with the team.
"He took advantage of this time to rub shoulders with the staff, study the video, understand things from the touchline", said Jamahl Mosley. "You will see him sometimes stand up and suggest things based on what he sees. I think it's fantastic for him."
The Orlando coach also clarified that his rookie had worked physically during the period when his right hand had to remain immobilized. "He has evolved physically, you can see the changes on his body. He used this rest period very well., he added.
Jalen Suggs practiced normally with the group on Tuesday and traveled to Washington on Wednesday, marking the start of a three-game road trip. The one tonight in Charlotte should be the one for him.
Jalen Suggs
Percentage
Bounces
Season
Team
GM
Minimum
Shots
3 points
LF
Off
Def
Early
pd
party
Int
bp
CT
Points
2021-22
ENT
21
28
33.9
25.5
76.3
0.8
2.6
3.4
3.6
2.8
1.1
3.2
0.4
12.3
Total
21
28
33.9
25.5
76.3
0.8
2.6
3.4
3.6
2.8
1.1
3.2
0.4
12.3