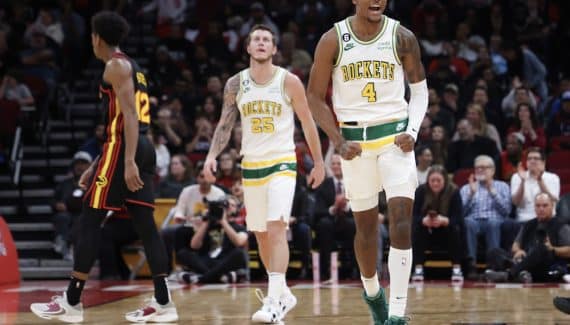 Like any very good striker, Jalen Green explained at the start of the season that he had focused his summer on his defensive progress. We've read that a thousand times already, and there are rarely any immediate effects. Even just effects.
However, failing to be cited among the defenders of the future, the back of the Rockets proved last night that he could indeed have an impact on this side of the field. Opposed to one of the best pairs of guards in the NBA with Trae Young and Dejounte Murray, he gave them a hard time on offense with his 30 points on 10 of 17 on shots, and he also stood out by hindering Trae Young in the last five minutes.
There's that pivotal action, as the Rockets trail by three points. He pushes Trae Young to take a complicated shot, and misses, and behind, Jalen Green continues on the counter-attack with a 3-pointer in first intention. From a possible disbursement of six points, the Rockets returned to a tie.
Multiple season records for Houston
"We were tired of them marking us on it" reports Stephen Silas about the 83 points accumulated by the Young-Murray pair. "It's good that our guys said to themselves: 'That's enough, they're not going to score anymore!' That says a lot about our character. »
A character that can be found in several season records for Houston such as rebound (59 shots), offensive rebound points (37), offensive rebounds (22) and free throws (34 of 41). These are just signs of aggression, and it's a big win for Houston in the way.
"Young and Murray are All-Stars" recalls Jalen Green. "By forcing them to take hard shots, we wanted them to drop the ball and force the others to score. »
Decisive in defense also in the "money time", Garrison Mathews ensures that his training has progressed in this sector. "We are obviously better than last season in defense. We have players to protect the circle, we are better at rebounding, and everything else. We have more athletic players, and that's very important when it comes to defence. »
"The coach really trusts me to defend against the best players every night. It's all new for me this year."
For Stephen Silas, Jalen Green is the symbol of this victory. " Of course, Trae scored 44 points, but he needs 28 shots… We couldn't get him to miss all his shots, but we fought. We tried, and the fact that Jalen went out for six fouls is proof that we really gave our all in defense. Especially on the ball. He did a good job in the middle of the screens, in his choices to go above or below, to challenge shots. We get him to play ball carrier a bit more, and that's one of the things he wanted to work on, and one of the things he continues to work on to get in the right spot, assist and cover. Having him a bit more on the ball helps build on his strengths like his quickness, ability to use his athleticism and reach against key dribblers. »
A challenge that Jalen Green accepts when he is only 20 years old, and we even saw him fussing with Trae Young after a start of confusion between Dejounte Murray and Jabari Smith Jr. "The coach really trusts me to defend against the best players every night. It's all new to me this year. Last year I didn't even get a chance to do that, and I was probably one of the players they were targeting in defense. Now they don't really want to fall on me. »
Lodger, Jalen Green will even go so far as to say " bye of the hand to Trae Young and the Hawks. A new proof of his sacred character.
Jalen Green
Percentage
Bounces
Season
Crew
GM
Minimum
Shots
3 points
LF
Off
Def
Early
pd
party
Int
bp
CT
Points
2021-22
HOO
67
32
42.6
34.3
79.7
0.5
2.9
3.4
2.6
1.5
0.7
2.0
0.3
17.3
2022-23
HOO
17
35
41.2
34.4
80.7
0.7
3.8
4.4
3.5
1.7
0.9
2.9
0.3
21.0
Total
84
32
42.2
34.3
79.9
0.5
3.1
3.6
2.8
1.6
0.7
2.2
0.3
18.0