Basketball News
Ja Morant has succeeded in his first mission: Memphis is finally respected! | NBA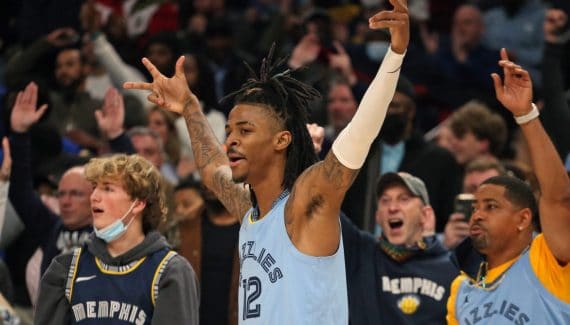 Is Ja Morant one of the five best point guards in the NBA? To this question that punctuated the last offseason, the leader again provided some answers in his favor when the Warriors received Stephen Curry. The Grizzlies have thus confirmed their status as Golden State's pet peeve, and Ja Morant his rank as the ultra-dominant leader in the league since the start of the season.
Like almost every game, Ja Morant quickly ignited the Grizzlies enclosure with a 3-pointer, an alley-oop and a baseline dunk in the first quarter. Memphis quickly had a solid lead, but the Warriors regained the lead in the third act, on two outside missiles signed Stephen Curry.
Money-time = Morant time
The suspense was there one minute from the end (111-108), and it was Ja Morant who was finally the hero of the match with two winning drives, concluded by a floater and a left-handed lay-up with the fault as a bonus to offer Memphis a new prestigious success.
"I just like having that pressure on my shoulders," he said of his two "clutch" baskets. "I feel that those are the situations where I shine the most. I like to take those shots whether I put them in or not.
As his teammate Desmond Bane recently stated, in addition to being a candidate for the All-Star Game and now part of the MVP talks, Ja Morant is also in the running for the title of best point guard. of the league! This performance against the current reference to his position and this 10/10 achieved by the Grizzlies in any case confirms the words of the rear.
"It gives me all the confidence in the world to hear that", added Ja Morant. "I appreciate all my teammates for their support and love. I have to keep working, pushing myself to progress with each game. As long as I do what I'm supposed to do and have the support of these guys, good things happen like we saw tonight. We have to continue like this".
Respect for the NBA
Now it's about aiming even higher, and convincing even the most undecided. Like this young spectator from Memphis who came with a Warriors jersey on his back, which he looked down on!
"He was disrespectful with this jersey" believes Ja Morant. "We are in Memphis. It looked like he wanted to cheer us on, but he was wearing that jersey. I apologize to him, but then take that shirt off and then celebrate me! If someone finds his contact details, I send him my jersey myself".
One thing is certain, Ja Morant has never been more confident, and he sees no limit to the potential of his team.
"I bet you it's done!" I bet you it is now." he repeats about earning respect in the NBA. "First, we are one of the best teams in the NBA. I think that's the first thing. Secondly, we prove that we have a rich workforce. No matter what happens to us, we respond, we bounce back and we win games. We keep rolling, we keep playing together, and we keep fighting. "
Ja Morant
Percentage
Rebounds
Season
Team
MJ
Min
Shots
3pts
LF
Off
Def
Early
Pd
Fte
Int
Bp
Ct
Pts
2019-20
SAME
67
31
47.7
33.5
77.6
0.8
3.1
3.9
7.3
1.6
0.9
3.3
0.3
17.8
2020-21
SAME
63
33
44.9
30.3
72.8
0.9
3.1
4.0
7.4
1.4
0.9
3.2
0.2
19.1
2021-22
SAME
29
32
48.9
38.3
76.8
1.3
4.4
5.8
6.7
1.3
1.4
3.2
0.4
24.7
Total
159
32
46.9
33.1
75.4
0.9
3.3
4.3
7.2
1.5
1.0
3.2
0.3
19.6