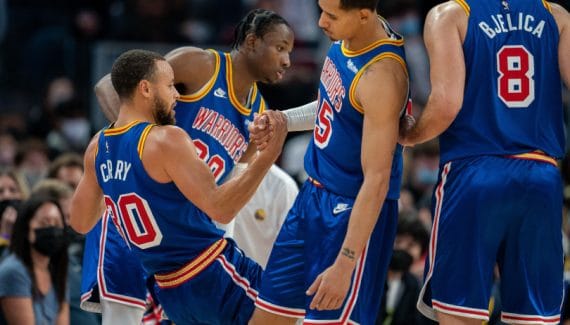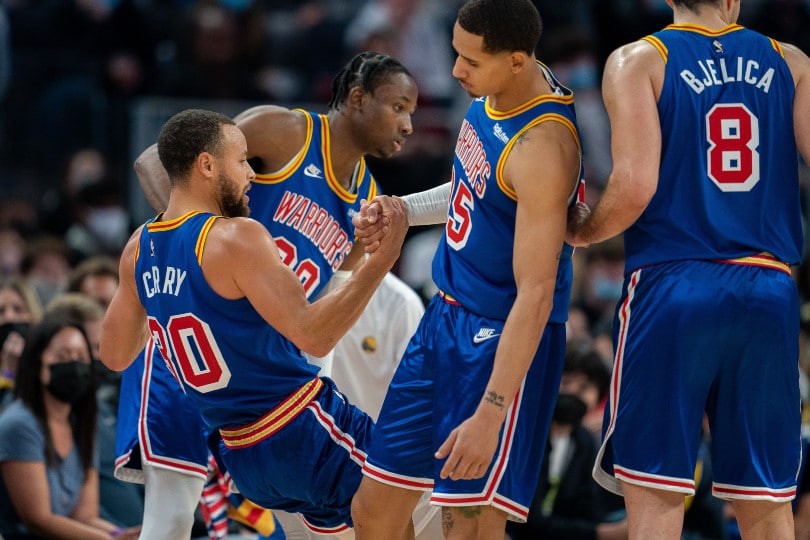 The Chase Center was celebrating last night. Before the meeting, it was Juan Toscano-Anderson who took the microphone to offer his year-end wishes to the fans.
During the meeting, in addition to the solid performances of Stephen Curry and Draymond Green, it was all the additional players who responded, led by a Gary Payton II of the great nights.
Propelled starting with the absences of Jordan Poole and Damion Lee, both in the sanitary protocol, the son of the "Glove" knew how to seize this opportunity to shine, ending the meeting with 22 points (career record) with a nice 4 / 7 from a distance in 33 minutes of playing time. His performance, however, obscures the good outings of Otto Porter Jr. (8 points, 2/4 to 3-points, 9 rebounds, 3 assists, 3 blocks), Nemanja Bjelica (9 points at 3/6 from far, 7 rebounds) and Jonathan Kuminga (6 points at 2/3 from far).
Without their second, third (Andrew Wiggins) and fourth leading scorer, and with Andre Iguodala still spare, the Warriors need everyone's input and they did last night.
Two crucial weeks for Golden State
"When you have to do without several major players, especially scorers, you have to find one or two players who can take shots every night and defend collectively like crazy," explains Steve Kerr. "That night, Gary (Payton II), JK (Jonathan Kuminga), Otto (Porte Jr), Beli (Nemanja Bjelica) responded. It's good but we'll have to start over in the next match. "
However, we may wonder if we will review this kind of performance from the second knives against tougher opponents.
Golden State's next five games are shaping up to be tough. They will take the direction of Phoenix for a Christmas game that now seems uNBAlanced, before a double confrontation against Nikola Jokic and the Nuggets, then a first duel against the Jazz in Utah on January 1, and a meeting against Miami at the Chase Center. the 3.
If the Warriors can hope to get Jordan Poole and Andrew Wiggins back in the last week of the year, one can imagine, however, that they risk losing other players due to the wave of Covid-19 currently hitting the team. . After Jordan Poole, Andrew Wiggins and Damion Lee, it is indeed Mike Brown, assistant coach of Steve Kerr, who was placed in the protocol before the match against Memphis.
Golden State (26 wins – 6 losses) had a superb start to the season but the next two weeks could redistribute the cards at the top of the Western Conference. To be continued…
Shots
Rebounds
Players
MJ
Min
Shots
3pts
LF
Off
Def
Early
Pd
Bp
Int
Ct
Fte
Pts
Stephen curry
29
34.4
43.3
39.6
92.1
0.7
4.7
5.4
6.0
3.4
1.6
0.5
2.0
27.1
Andrew Wiggins
29
31.1
49.1
42.2
70.9
1.2
3.3
4.5
1.8
1.6
0.8
0.6
1.8
18.7
Jordan poole
28
30.7
44.2
33.8
90.9
0.3
3.1
3.4
3.4
2.5
1.0
0.2
2.9
17.9
Draymond green
29
30.4
55.4
29.0
59.7
1.2
6.9
8.0
7.4
3.1
1.4
1.0
2.8
8.4
Damion lee
25
20.8
43.8
34.9
87.1
0.3
2.8
3.1
1.0
0.6
0.4
0.1
1.6
8.4
Otto Porter
26
19.9
45.5
39.4
78.9
0.7
4.1
4.8
1.0
0.6
0.8
0.5
1.3
7.6
Gary Payton II
30
14.4
65.1
38.6
61.8
1.1
2.1
3.1
0.7
0.5
1.3
0.2
1.6
6.7
Nemanja Bjelica
31
14.7
46.3
40.0
67.6
1.0
2.8
3.8
1.7
1.1
0.7
0.3
1.5
6.6
Kevon Looney
31
18.7
54.3
0.0
58.5
2.3
4.0
6.3
1.3
0.6
0.5
0.8
2.5
5.8
Juan Toscano-anderson
30
16.2
50.9
25.6
65.5
0.7
2.3
3.0
2.1
1.1
0.6
0.4
1.5
4.8
Andre Iguodala
16
20.2
40.9
22.0
80.0
0.8
2.6
3.4
3.9
0.6
0.8
0.8
0.9
4.4
Jonathan kuminga
21
8.4
47.9
24.0
60.9
0.4
1.1
1.5
0.3
0.7
0.4
0.1
1.0
4.3
Chris Chiozza
14
12.4
32.5
36.7
100.0
0.5
1.1
1.6
2.0
1.1
0.5
0.0
1.4
2.7
Moses moody
21
6.3
32.6
15.4
57.1
0.1
0.8
0.9
0.3
0.1
0.1
0.2
0.5
1.8
Jeff Dowtin
4
6.9
50.0
0.0
0.0
0.2
1.5
1.8
0.8
0.2
0.0
0.2
0.5
1.5