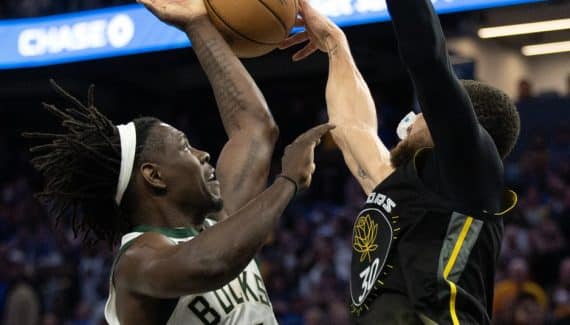 There is exactly 1 minute and 51 seconds left in the game against the Bucks, and Stephen Curry only scored 16 points. Jrue Holiday, Khris Middleton and Jevon Carter took turns to slow him down, and the Bucks lead by eight points (108-100). It would take a miracle for the Warriors to turn the tide of the game, and they're going to do it thanks to Curry. The All-Star leader will thus register 11 points in less than two minutes to snatch the extension, then he will add nine in this same extension.
Upon arrival, Golden State won 125-116 and Curry scored 20 points in less than seven minutes! But he did not only score since he is also the one who will cover Jrue Holiday to prevent the Bucks from winning on their last possession.
"When you can put in a few big shots at the end of the game since you are in a position to take defensive action on the other side of the field, it gives everyone a boost" explains the Warriors point guard. "But in the locker room, I got more compliments for that block than for any other basket of the evening. »
"Steph is not afraid of anything! »
It must be said that this counter is made on Jrue Holiday, one of the best defenders in the NBA, and at a key moment in the game. "It's great to see him use the laws of verticality to achieve this counter" testifies Draymond Green, who also insists on the preferential treatment that Curry received from the Bucks. "Jrue Holiday is without doubt one of the best defenders on the ball carrier that I have seen. He was harassing him. Jevon Carter is an incredible defender. It's a plague. He harasses you. (Steph) accepted it with no problem. There were times when he got grabbed, he didn't complain, he just kept playing. You have to keep in mind that it's a physical team and that it will act like that. When you are such a physical team, you get away with these kinds of things and you have to be aware of it. That's what he did. Steph took charge and created all the shots he needed. »
Same enthusiasm from Steve Kerr: "Steph was amazing, and he's achieving that against one of the greatest defenders, Jrue Holiday. It's amazing to see these two guys go up against each other. Steph is not afraid of anything. It doesn't matter if his start to the game is slow or he can't find his rhythm, he can ignite at any moment.
This decisive counter, but also this hot shot from Curry, are the symbols of Warriors capable of bringing out the very big game at all times. "It's champion's work" assures Kerr. "This is the team that has won four titles. They know how to do it, and they did it against what is arguably the best team in the NBA. »