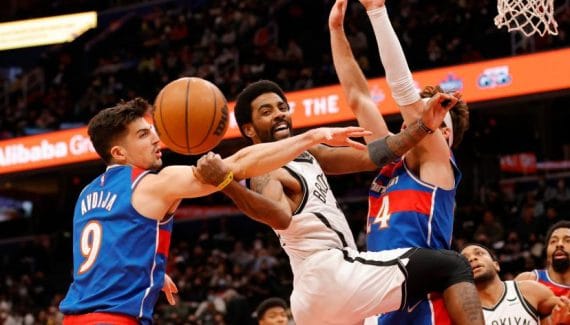 The satisfaction was equal to the relief on the side of Brooklyn following this victory acquired on the wire (118-119), after two final failed 3-point attempts by the Wizards in the last seconds.
Particularly for Kyrie Irving who was able to celebrate his big performance (30 points, 7 assists in 38 minutes) with a success, the first acquired in the presence of the leader since the injury of Kevin Durant.
"I like the pressure. She brings out the best in me. I'm also able to fuel the energy of the team, whether it's communicating with the guys on short exchanges, whether on or off the court." he slipped after the meeting when his role is now more important in the absence of KD. "I just try to demand more from each of us, from myself first, but also from all of us. It will never be perfect. But we do with what we have and we cannot replace the absentees. But what we can do is fill the stat sheet with these little things, the ones we see and the ones we see less".
Take advantage of every moment to progress, individually and collectively
Although he can only play on the outside, Kyrie Irving knows he will have to do more to manage team cohesion as the Nets leader is now on the flank. His role will not be limited to the field, and Steve Nash is already seeing the effects of this change, considering that his leader had been "brilliant" against the Wizards.
"I think Kyrie is really trying to fit in with the group and find his rhythm," did he declare. "Obviously you see times when he's exceptional and it feels like he's never left and other times when you're like, 'He's a brand new player, playing in a group. he's never played with', so that takes time too. I don't think he puts too much pressure on himself. We want him to be free, to have that period where he can't overwork or overdo it, just to feel comfortable. He helps our team, whether he's trying to pass 40 points every night or just trying to fit in. He is a very good player and he completes our group well".
Back for two weeks, the player continues to savor every moment, after missing more than two months of competition.
" It's incredible. I don't take a single day for granted. I thank God every day for having this opportunity, not only to play basketball, but also to be surrounded by great people. We have a group that grows together, then when we leave the room, being all away from our families, outside, we stick to this mission that we are trying to accomplish, mentally, physically, spiritually , emotionally and we try to stay balanced", he concluded.
Kyrie Irving
Percentage
Bounces
Season
Team
GM
Minimum
Shots
3 points
LF
Off
Def
Early
pd
party
Int
bp
CT
Points
2011-12
KEY
51
31
46.9
39.9
87.2
0.9
2.9
3.8
5.4
2.2
1.1
3.1
0.4
18.5
2012-13
KEY
59
35
45.2
39.1
85.5
0.6
3.1
3.7
5.9
2.5
1.5
3.2
0.4
22.5
2013-14
KEY
71
35
43.0
35.8
86.1
0.7
2.9
3.7
6.1
2.3
1.5
2.7
0.3
20.8
2014-15
KEY
75
36
46.8
41.5
86.3
0.7
2.4
3.2
5.2
2.0
1.5
2.5
0.3
21.7
2015-16
KEY
53
32
44.8
32.2
88.5
0.8
2.1
3.0
4.7
2.0
1.1
2.3
0.3
19.6
2016-17
KEY
72
35
47.3
40.1
90.5
0.7
2.5
3.2
5.8
2.2
1.2
2.5
0.3
25.2
2017-18
BOS
60
32
49.1
40.8
88.9
0.6
3.2
3.8
5.1
2.0
1.1
2.3
0.3
24.4
2018-19
BOS
67
33
48.7
40.1
87.3
1.1
3.9
5.0
6.9
2.5
1.5
2.6
0.5
23.8
2019-20
BRK
20
33
47.8
39.4
92.2
1.1
4.1
5.2
6.4
2.7
1.4
2.6
0.5
27.4
2020-21
BRK
54
35
50.6
40.2
92.2
1.0
3.8
4.8
6.0
2.6
1.4
2.4
0.7
26.9
2021-22
BRK
4
34
47.9
36.8
100.0
0.3
5.3
5.5
5.0
2.0
1.3
2.3
0.5
20.0
Total
586
34
47.0
39.1
88.1
0.8
3.0
3.8
5.7
2.3
1.3
2.6
0.4
22.8