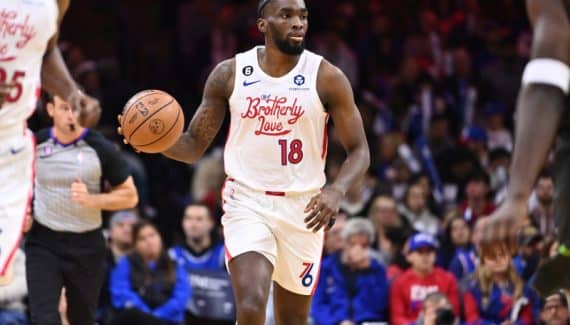 It is an understatement to say that the Sixers have not been varnished in terms of injuries since the start of the season.
In turn, Joel Embiid, James Harden, Tyrese Maxey and Tobias Harris have thus missed several matches and, currently, it is the Harden/Maxey duo who are missing in Pennsylvania…
Obliging at the same time Doc Rivers to reorganize his backcourt, without its two usual holders at 1/2 positions. A boon for De'Anthony Meltonand especially Shake Milton.
Why ? Quite simply because, unlike Melton, Milton was not (or no longer) really part of his coach's recovery plans.
Milton bided his time
First chaining the "DNP" then the brief appearances, the 26-year-old then took advantage of James Harden's injury to regain a playing time of around twenty minutes, without however shining off the bench (6.6 points ).
But "thanks" to the absence of Tyrese Maxey, he was able to get this starting spot to which he quickly adapted.
For three games (one victory), the slender Shake Milton has found rhythm and is gaining momentum: 21.7 points, 6.3 rebounds and 5.3 assists on average (in 38 minutes), 58% on shots, 50% at 3-pts and 88% in throws!
Standing out on both sides of the floor, especially when he has to run to project himself in transition.
" That's why you work so hard and are always focused on what's happening in defence. This is also what we are looking for offensively. This way the counter attack can be as smooth as possible », he detailed tonight, after the defeat of his people in Charlotte.
Melton Express Integration
As for hyperactive De'Anthony Melton, who arrived in the summer from Memphis, things were a bit different in Philadelphia.
Initially used as a sixth man (7.6 points, 3.1 rebounds, 1.9 assists and 1.3 steals as a substitute), he switched to the five as soon as Joel Embiid and/or James Harden were on the sidelines (13.7 points, 5.7 rebounds, 4.2 assists and 2.4 starting interceptions).
It must be said that, beyond being productive and efficient as soon as he sets foot on the floor, Doc Rivers has blind faith in the former Grizzlies player and he is also unanimous among his teammates. .
" I always tell him that I wish he could play more, because he is one of the few who can pass on the ground "Explained for example Joel Embiid, after the victory against the Bucks last Friday. " He's so good at playing the pick-and-roll and he's demonstrated that, controlling and making the right passes every time. »
Same story with Shake Milton: " De'Anthony [Melton] is a kind of Swiss army knife, he's someone who can play in different positions and who can do a lot of things on the pitch, so it makes life easier. It's fun to play with him ", he judged about his friend on the back lines of the Sixers, who has averaged 20.3 points, 5.0 rebounds, 4.3 assists and 4.0 steals for three games.
In full confidence, Shake Milton like De'Anthony Melton therefore do not fail to respond since their coach has empowered them more, ball in hand in particular. This bodes well for Philadelphia, which is still struggling to take off in the standings (9th in the East, with nine wins and nine losses)…
" These are the guys we're gonna need and they're gonna show up ", already hoped Joel Embiid about them.
De'Anthony Melton
Percentage
Bounces
Season
Crew
GM
Minimum
Shots
3 points
LF
Off
Def
Early
pd
party
Int
bp
CT
Points
2018-19
PHX
50
20
39.1
30.5
75.0
0.5
2.2
2.7
3.2
2.3
1.4
1.5
0.5
5.0
2019-20
SAME
60
20
40.1
28.6
76.9
0.7
3.0
3.7
2.9
1.8
1.3
1.4
0.3
7.6
2020-21
SAME
52
20
43.8
41.2
80.4
0.6
2.5
3.1
2.5
1.6
1.2
1.3
0.6
9.1
2021-22
SAME
73
23
40.4
37.4
75.0
0.9
3.6
4.5
2.7
1.8
1.4
1.5
0.5
10.8
2022-23
PHL
15
27
43.1
40.8
69.2
1.3
3.1
4.5
3.2
1.8
1.8
1.4
0.5
10.4
Total
249
21
41.1
36.2
76.1
0.7
2.9
3.6
2.8
1.8
1.3
1.4
0.5
8.4
Shake Milton
Percentage
Bounces
Season
Crew
GM
Minimum
Shots
3 points
LF
Off
Def
Early
pd
party
Int
bp
CT
Points
2018-19
PHL
20
13
39.1
31.8
71.4
0.5
1.3
1.8
0.9
1.5
0.4
0.3
0.4
4.4
2019-20
PHL
40
20
48.4
43.0
78.5
0.4
1.8
2.2
2.6
2.3
0.5
1.2
0.2
9.4
2020-21
PHL
63
23
45.0
35.0
83.0
0.5
1.8
2.4
3.1
2.1
0.6
1.6
0.3
13.0
2021-22
PHL
55
21
42.9
32.3
83.6
0.6
2.0
2.6
2.5
1.8
0.5
0.8
0.3
8.2
2022-23
PHL
13
18
51.3
36.8
71.4
0.5
2.2
2.7
2.1
1.5
0.1
1.7
0.2
7.5
Total
191
21
45.0
36.1
81.5
0.5
1.9
2.4
2.5
1.9
0.5
1.2
0.3
9.6