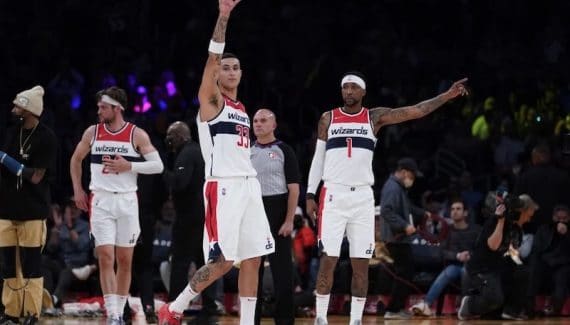 " They will always be family ", formulate Frank Vogel with regard to Kyle Kuzma and Kentavious Caldwell-Pope. Last night, these two made their return to the floor of the Crypto.com Arena. Their first passage, marked by a traditional tribute videosince their transfer during the last off-season around Russell Westbrook.
A year before being sent to Washington, the two men had made important contributions to the Lakers title in 2020. Today, as the season draws to a close, the Lakers cannot be said to have been the big winners of this exchange. The proof, by winning thanks to a new monstrous performance from LeBron James at 50 points, the Californians have as many victories as the Wizards (29)…
Kyle Kuzma does not want to fall into the game of " what if This transfer had not taken place, both collectively and personally. " I am stamped as a winner, as a champion with the Lakers. For me, it's not a matter of 'what if'. Time to move on and up my game", displayed the strong winger before the meeting.
" Without resentment. I am at peace and happy where I am ", completed "KCP" who has not forgotten the tumults of his visit to California: " Every year with the Lakers, I was in the transfer rumours. Some things were true. Others don't."
LeBron James is keeping an eye on their performances
The two men saw this arrival in Washington as an opportunity to develop in silence, far from the permanent noise which surrounds the Lakers. " I'm built differently as an individual with the way I grew up and handle criticism very well. I no longer let reach. I keep my head up. I want to improve myself. I like to be challenged. That's why it's easier for me than for others ", listed for example Kyle Kuzma.
Despite their departure, they are still followed very closely by their former leader, LeBron James, delighted to have faced his two " brothers " tonight. " It's always a warm feeling to see the teammates you battled with to win the title. We know all the effort and sacrifice that goes into trying to accomplish that.", recalls the MVP of the evening after the meeting.
He adds, always with his sense of detail: " Seeing Kuz's development this season is truly amazing compared to his in-game choices. He's their leading scorer in Brad's absence. (Beal) (note: 25 points average since the All-Star game) and KCP is second (17 points). He has to shoot 50% from three points in the last 10-12 games and Kuz pulls out a double-double almost every night. I am happy for them."
The back of the Wizards was much less successful tonight with only 6 points scored at 1/6 on shots, where Kyle Kuzma finished with 23 points (9/18) and 7 rebounds. " I'm just a kid from flint michigancontinues the latter, paraphrasing his ex-teammate. I've always had that in mind, coming from a small town, going to Los Angeles and being talked about there. Honestly for me, it's the American dream. […] The Laker Nation and being a Laker will stay in my heart."