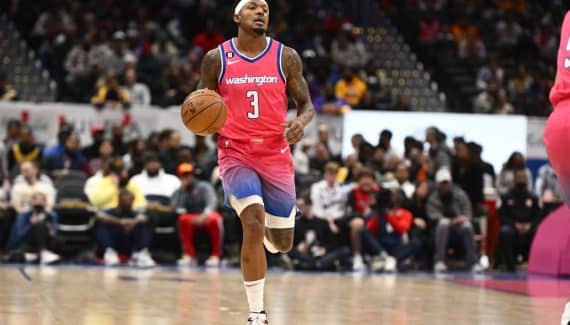 Bad night for the Wizards, who suffered the Anthony Davis festival, conceded a heavy loss at home and even lost Bradley Beal. Hit in the hamstring after two minutes of play, the back did not come back into play. Worries accumulate as Wes Unseld Jr's troops are down to six defeats in seven games and the coming back promises to be tougher.
To make matters worse, Rui Hachimura (ankle) is still in the infirmary, as is Delon Wright (thigh), expected to return within ten days, while the "two-way contract" Devon Dotson has entered quarantine. It was therefore time for the general mobilization of the troops after the defeat against the Lakers who had a lead of up to 29 points in the third quarter.
"We're not going to drop the season now. We still have a chance. We just have to find a solution collectively.", launched Kyle Kuzma.
The collective again put to the test
While Washington had made up for Bradley Beal's first six-game absence (4v-2d), this is a new challenge for the rest of the group, even if the unavailability of the leader of the Wizards should not not drag on.
"It's a big responsibility that we have to take on, the rest of the team"recalled Kristaps Porzingis. "There were times without Brad, when he was away due to Covid, where we responded quite well, playing with a lot of energy. We knew that everyone was going to have to raise their level, and the most important thing, it seems to me, is that we have to understand that it will not be so much a question of attack. Offensively, we will find our situations. Of course, we're a different team when Brad isn't around. But it's in defense that we really have to concentrate in order to be able to compete without him. Let's hope he's not gone too long."
"The most important thing is not to collapse"
The situation is delicate but not yet hopeless. Like the Lakers, the Wizards are at a first turning point in their season, and it will be a question of approaching it as best as possible to limit the breakage, hoping for a quick return from Bradley Beal. As they experienced last season, it is as a team that the troops of Wes Unseld Jr will find the key. "We have done this before"recalled the DC coach.
"The most important thing is not to collapse"added Corey Kispert. "We have to stay together. There can be no 'us versus them' or clans within the team. We are one, and we must find a solution together. That's what we're going to do. It's part of an NBA season. There are good times and bad times, and we are going through one of them. We do not deny it".
Next game Wednesday in Chicago, against another struggling team in the East.
Shots
Bounces
Players
GM
Minimum
Shots
3 points
LF
Off
Def
Early
pd
bp
Int
CT
party
Points
Bradley Beal
17
36.9
52.0
35.2
87.3
0.9
3.0
3.9
5.7
3.0
1.2
0.6
2.0
24.1
Kristaps Porzingis
22
32.4
47.0
36.4
80.0
2.3
6.5
8.8
2.5
1.9
0.8
1.5
3.3
21.6
Kyle Kuzma
22
34.6
45.8
31.3
73.1
0.9
6.8
7.7
3.5
2.4
0.3
0.5
2.6
20.3
Rui Hachimura
16
23.5
48.1
33.3
72.4
0.8
4.1
4.8
1.1
1.4
0.3
0.5
1.1
11.6
Corey Kispert
15
26.4
52.6
44.1
73.7
0.5
1.9
2.4
1.7
0.7
0.7
0.2
1.5
9.3
Monte Morris
20
27.0
44.8
38.3
73.9
0.5
3.4
3.8
5.1
0.8
0.8
0.2
1.3
8.9
Will Barton
23
22.1
36.9
32.9
87.5
0.3
2.9
3.2
2.4
1.0
0.7
0.3
1.2
7.7
Deni Avdija
23
23.6
40.1
28.3
75.0
0.9
4.0
4.9
2.3
1.4
0.7
0.7
3.1
7.2
Jordan Goodwin
16
20.3
51.2
48.0
62.5
1.2
2.6
3.8
2.8
0.9
0.8
0.8
1.9
6.6
Delon Wright
4
22.7
41.7
25.0
60.0
1.0
1.5
2.5
3.3
1.0
2.8
1.0
1.3
6.5
Daniel Gafford
23
13.0
69.6
0.0
57.8
1.6
2.5
4.1
0.4
0.9
0.3
1.1
1.7
5.3
Anthony Gill
19
12.2
55.3
16.7
84.6
0.7
1.1
1.8
0.5
0.2
0.2
0.2
1.5
3.4
Taj Gibson
11
6.2
48.0
16.7
100.0
0.5
0.9
1.5
0.4
0.3
0.3
0.2
1.2
3.0
Jordan Schakel
2
3.1
50.0
100.0
0.0
0.0
0.0
0.0
0.5
0.0
0.5
0.0
0.5
1.5
Johnny Davis
8
5.7
27.3
0.0
100.0
0.1
0.5
0.6
0.3
0.1
0.0
0.1
1.5
1.1
Isaiah Todd
4
3.1
25.0
0.0
0.0
0.0
0.0
0.0
0.0
0.0
0.0
0.0
0.0
0.5
Devon Dotson
2
10.5
0.0
0.0
0.0
1.5
0.5
2.0
1.0
0.0
0.5
0.0
1.5
0.0
Vernon Carey, Jr.
3
1.7
0.0
0.0
0.0
0.0
0.3
0.3
0.0
0.3
0.0
0.0
0.7
0.0