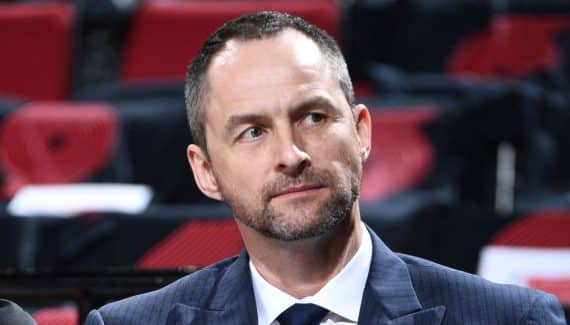 Although the season of Bulls can be considered a failure, because they did not know how to reach the playoffs at the end of the play-in, that did not prevent them to prolong one of their strong men, Arturas Karnisovas.
A very discreet extension since the franchise had not communicated on it, and it was our colleague Darnell Mayberry, from The Athletic, who therefore revealed the information.
Vice President of Basketball Operations Chicago for three years now, and his arrival in the organization chart of the franchise in April 2020, the 52-year-old Lithuanian leader thus continues the adventure in the offices of Illinois, without the duration or the amount of his extension being currently communicated.
Under the leadership of Arturas Karnisovas, we remember that Billy Donovan's Bulls returned to the playoffs in 2022, in the wake of DeMar DeRozan and Zach LaVine, of course. But the looming summer promises to be pivotal for this team, since Nikola Vucevic, Coby White, Patrick Beverley and Ayo Dosunmu are no longer under contract for 2023/24, while Lonzo Ball will probably not play again until at least 2024. /25.
Shots
Bounces
Players
GM
Minimum
Shots
3 points
LF
Off
Def
Early
pd
bp
Int
CT
party
Points
Zach Lavine
77
36.0
48.5
37.5
84.8
0.5
3.9
4.5
4.2
2.5
0.9
0.2
2.1
24.8
Demar Derozan
74
36.2
50.4
32.4
87.2
0.5
4.2
4.6
5.1
2.1
1.1
0.5
2.5
24.5
Nikola Vucevic
82
33.5
52.0
34.9
83.5
1.9
9.1
11.0
3.2
1.7
0.7
0.7
2.2
17.6
patrick williams
82
28.3
46.4
41.5
85.7
1.0
3.0
4.0
1.2
1.2
0.9
0.9
1.8
10.2
Coby White
74
23.4
44.3
37.2
87.1
0.2
2.6
2.9
2.8
1.0
0.7
0.1
1.6
9.7
Ayo Dosunmu
80
26.2
49.3
31.2
80.5
0.6
2.2
2.8
2.6
1.2
0.8
0.3
2.3
8.6
Goran Dragic
51
15.4
42.5
35.2
65.9
0.3
1.1
1.4
2.7
1.1
0.2
0.1
1.2
6.4
Andre Drummond
67
12.7
60.6
0.0
53.6
2.1
4.6
6.6
0.5
1.1
0.7
0.4
1.7
6.0
Patrick Beverly
22
27.5
39.5
30.9
53.3
0.9
4.0
4.9
3.5
0.8
1.0
0.7
2.9
5.8
Alex Caruso
67
23.5
45.5
36.4
80.8
0.6
2.3
2.9
2.9
1.1
1.5
0.7
2.4
5.6
Javonte Green
32
15.0
56.5
37.1
66.7
0.8
1.9
2.8
0.7
0.6
0.8
0.7
1.6
5.2
Derrick Jones
64
14.0
50.0
33.8
73.8
0.9
1.5
2.4
0.5
0.4
0.5
0.6
1.3
5.0
Terry Taylor
5
7.1
90.0
100.0
25.0
1.0
0.6
1.6
0.0
0.0
0.0
0.2
0.4
4.0
carlik jones
7
8.0
40.0
50.0
62.5
0.1
0.6
0.7
0.9
0.3
0.3
0.0
0.3
2.9
Dalen Terry
38
5.6
44.4
25.9
66.7
0.3
0.7
1.0
0.6
0.2
0.3
0.1
0.6
2.2
Tony Bradley
12
2.8
50.0
60.0
100.0
0.1
0.8
0.9
0.1
0.1
0.1
0.1
0.2
1.6
Malcolm Hill
5
1.8
50.0
33.3
0.0
0.0
0.6
0.6
0.0
0.0
0.0
0.0
0.2
1.0
Marko Simonovic
7
2.8
28.6
25.0
50.0
0.1
0.1
0.3
0.0
0.0
0.0
0.0
0.7
0.9