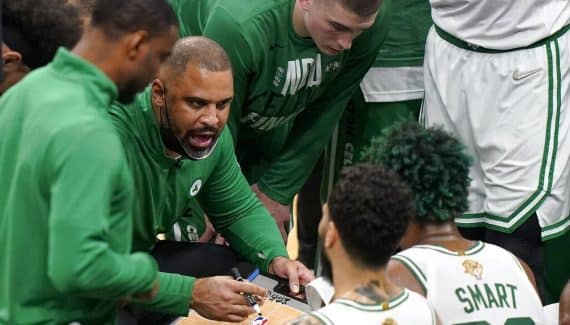 While the case seemed settled, a few hours after the announcement of the departure of Steve Nash, the arrival ofIme Udoka is still not official. Under contract with the Celtics, the former assistant of Gregg Popovich has his release and the Nets have come into contact with their counterparts in Boston.
Except the signing still hasn't been announced, and according to Marc Stein, there's a reason for that. Internally, executives are pressuring owner Joe Tsai not to hire Ime Udoka. The reason is simple: while the franchise must already manage the Kyrie Irving case, it would not be very wise to hire a coach who, himself, was suspended for a year for having had an extramarital affair. with an employee.
The Nets need appeasement and to restore their image (if it is still possible…), and the arrival of Ime Udoka could send a bad message. On the sporting level, it would of course be a good catch since he led the Celtics in the final in his first year, and he has the profile to tighten the screw and frame the Irving / Durant duo.
On the relational level also since Ime Udoka already knows part of the group and the leaders, he gets along very well with Kevin Durant, whom he has therefore rubbed shoulders with in Brooklyn and in the American selection. Also remember that he has already worked with Ben Simmons when he was an assistant to the Sixers.
In the meantime, Jacque Vaughn is acting, and the Nets have won both games with him.