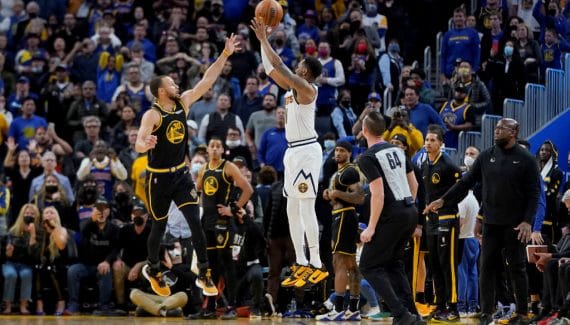 Eight points behind and less than three minutes to play, the Nuggets were running out of time and options. Stephen Curry had started to raise his voice, and Mike Malone had only one idea in mind: not to leave his defense at the mercy of the man whom Tyronn Lue had described two days earlier as "the most dangerous player in the league ".
How to go about it ? Going a deuce is synonymous with 4-on-3, giving an open shot to Klay Thompson or Andrew Wiggins. Mike Malone then resorted to a last-ditch tactic. We knew the "Hack-a-Shaq", here is the "Hack-a-Looney"! It is a question of systematically foul on the pivot of the Warriors to break their offensive rhythm and force the pivot to go to the free throw line.
" It was truly a desperate choice and that says a lot about Stephen Curry. We absolutely wanted to take the ball out of his hands. Since Kevon Looney had missed a pitch earlier, we took the shot, explains the coach.
A defining Hack-a-Looney
The Warriors pivot will miss his first two free throws, but score the next two, keeping his team at +7. Denver's strategy didn't really work and the clock was going to end it because NBA regulations prohibit intentional fouls away from the ball in the last two minutes of the game. It was without counting on the game intelligence of Nikola Jokic.
" Once there are less than two minutes left, you can't foul again, but Nikola was defending on Looney and he managed to foul by pushing Looney as the latter screened for Stephen Curry, describes Mike Malone. " It's details like this that make Nikola Jokic unique. "
Kevon Looney misses his two free throws and 15 seconds later, Denver returns to -3. One minute left to play.
On the Warriors side, throughout this sequence, a question therefore arises for Steve Kerr and his staff. Should they keep Kevon Looney on the field to defend on Nikola Jokic or should they replace him with Gary Payton II, at least to counter Mike Malone's strategy?
" I made choices in the last minutes that didn't work out," conceded Steve Kerr. " I'm going to have trouble sleeping tonight. We needed a basket to kill the match, we had the opportunities but we lacked skill and discipline."
Stephen Curry's Dumpling
Obviously, after the fact, it's easy to say that the entry of Gary Payton II could have been the difference. Steve Kerr could also have given his substitute a chance in the last action of the match. Stephen Curry had given the Warriors a two-point lead with a 2+1 but the Nuggets still had nearly six seconds to try to send the game to overtime or win it on a long-range shot.
Steve Kerr trusted Stephen Curry. It's worth remembering that even though Steve Kerr has already benched Curry in decisive defensive possession, the point guard wants to be on the court in decisive moments. Unfortunately, the double MVP lacked rigor, giving the Nuggets the opportunity to win the game.
Back to this last action with a ball that is given to Nikola Jokic low post. " Jokic scored the way he wanted near the circle for the entire fourth quarter"contextualizes Steve Kerr, about the choice to put Stephen Curry in aid on him.
" That's what makes Nikola so strong, he can beat you one-on-one, but he can also beat you with passing quality," replies Mike Malone. Indeed since it is indeed the Serb who will find Monte Morris on the opposite side for the 3-point win.
" I saw that Steph (Curry) was trying to cheat a little," explained Monte Morris. " I cut to give Nikola as much space as possible and Steph took a step towards him. Nine times out of ten in this situation I know he's going to make the pass and I was ready. "
The Nuggets' perfect hold-up therefore came down to the decision to attempt the "Hack-a-Looney" and play on Nikola Jokic's strengths to force the Golden State defense into a foul. Stephen Curry unfortunately jumped on the bait, leaving Monte Morris on the opposite side.
" Monte put a shot clutch that I gave him on a platter," blamed himself for the double MVP. " At +2, we must not give a 3-point to the opponent. It's the worst thing you can do in this kind of situation and that's exactly what I did."
Interview in San Francisco.