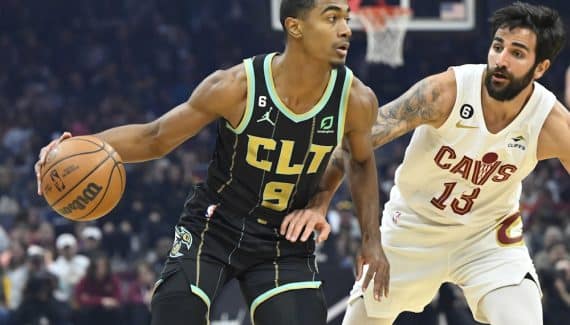 Absent from the France group for the World Cup, Theo Maledon will console themselves with a "qualifying offer". Arrived in Charlotte with a "two-way contract", the French leader was able to convince Steve Clifford and the leaders, to the point of playing more than half of the matches, and to average nearly 7 points. He finished on a high note with 18 points, 8 rebounds and 6 assists against Cleveland.
If he does not find better this summer, Maledon will therefore be able to accept a one-year contract at 1.8 million dollars.
The former Thunder leader is not the only one to win a "qualifying offer" since the Hornets have decided to protect PJ Washington and… Miles Bridges! Suspended by the NBA for domestic violence, Bridges had not won a contract extension last summer, and the Hornets care about him since they decided to protect it with a "qualifying offer" of 7.9 million dollars.
Two years ago, Bridges turned down a four-year, $60 million offer as he was aiming for a contract in excess of $100 million twelve months later. After a year without playing, maybe he will have to settle for this last year of the contract at 7.9 million dollars.
Shots
Bounces
Players
GM
Minimum
Shots
3 points
LF
Off
Def
Early
pd
bp
Int
CT
party
Points
Lamelo Ball
36
35.2
41.1
37.6
83.6
1.2
5.3
6.4
8.4
3.6
1.3
0.3
3.3
23.3
terry rozier
63
35.3
41.5
32.7
80.9
0.8
3.3
4.1
5.1
2.1
1.2
0.3
1.9
21.1
Kelly Oubre, Jr.
48
32.2
43.1
31.9
76.0
1.4
3.8
5.2
1.1
1.3
1.4
0.4
2.9
20.3
Pj Washington
73
32.6
44.4
34.8
73.0
1.0
3.9
4.9
2.4
1.5
0.9
1.1
2.6
15.7
Gordon Hayward
50
31.5
47.5
32.5
81.1
0.7
3.6
4.3
4.1
2.0
0.8
0.2
1.4
14.7
mason plumlee
56
28.5
66.9
0.0
60.5
3.3
6.3
9.7
3.7
1.6
0.6
0.6
2.9
12.2
Jalen Mcdaniels
56
26.7
44.7
32.2
84.6
0.8
4.0
4.8
2.0
1.4
1.2
0.5
2.8
10.6
Svi Mykhailiuk
19
22.5
44.1
40.4
67.6
0.8
1.6
2.4
2.7
1.2
0.7
0.2
1.2
10.6
mark williams
43
19.3
63.7
0.0
69.1
2.2
4.9
7.1
0.4
0.9
0.7
1.0
2.2
9.0
Dennis Smith
54
25.7
41.2
21.6
73.6
0.5
2.6
3.1
4.8
1.5
1.4
0.5
2.3
8.8
Nick Richards
65
18.7
62.9
100.0
74.9
2.3
4.1
6.4
0.6
0.9
0.2
1.1
2.4
8.2
Theo Maledon
44
19.4
40.2
29.5
85.1
0.3
2.5
2.8
3.5
1.3
0.8
0.3
1.4
6.7
james bouknight
34
15.2
35.8
30.3
66.7
0.2
1.9
2.1
1.2
0.9
0.4
0.1
1.4
5.6
Bryce McGowens
46
17.1
39.6
32.5
75.0
0.4
1.6
2.0
1.2
0.9
0.3
0.1
1.0
5.3
Cody Martin
7
19.1
38.9
21.4
57.1
1.1
2.3
3.4
1.6
0.3
0.6
0.1
1.9
5.0
Xavier Sneed
4
12.1
50.0
50.0
100.0
0.0
1.3
1.3
1.3
0.8
0.0
0.3
1.8
4.3
Jt Thor
69
14.0
39.9
31.7
70.2
0.5
1.7
2.2
0.5
0.6
0.3
0.3
1.0
3.8
Kai Jones
46
11.9
55.8
21.1
73.1
0.8
1.9
2.7
0.3
0.7
0.4
0.7
1.4
3.4
Kobi Simmons
5
5.6
16.7
20.0
100.0
0.2
0.6
0.8
1.0
0.2
0.0
0.4
0.0
1.0