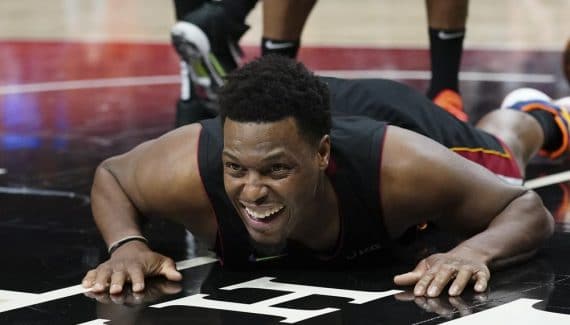 The Heat can clearly approach the second half of the season with appetite and ambition. Why ? Because the Miami franchise is still second in the Eastern Conference (26 wins, 15 losses) while everything has not been perfect since the start of hostilities.
Already, the injuries and the many missed matches of Jimmy Butler, Bam Adebayo or even Markieff Morris have deprived the Heat of several of their best players. Then, of the first 41 matches played, 25 were away, that is 60% of the matches!
"I have been home very little. It's like paying rent for a storage room. So it will be nice to be at home, in my apartment…", explains Gabe Vincent at the Sun Sentinel. "I told my brother recently: we were hardly at home", adds Caleb Martin. "My quarantine was almost the only time I had the feeling of living at home. »
It is obvious that, sportingly, playing 25 times at home, in front of his home crowd, in the second half of the season represents an opportunity. For organizations too since except for a game in Atlanta on January 21, the Heat will stay in Miami for two weeks to finish this month of January.
"We can't wait to be back home", rejoices Duncan Robinson. "It was a very interesting time to start the season, with many away games, lone players and all that. There, we have the opportunity to come back with a full group. »
Beware of relaxation
But for Erik Spoelstra, even though the Heat have won 12 of their 16 home games so far, this homecoming won't mean automatic wins. We will have to win the matches on the floor.
"I think everyone is aware that the first part of the season was intensive," says the coach. "We didn't really have time to unpack and everyone realized that it was a little different. Now, the message is not to say that, from now on, we are at home with our families, we will relax and the victories will come. This will not be the case. One of the advantages of playing away is that you know it's going to be tough and the level of urgency isn't necessarily the same as at home. »
The coach therefore warns that a guilty release is thus possible for the Heat. To really take advantage of this advantage, players will have to be vigilant.
"We have to take advantage of that and win at home. Spoelstra is right in that sense, it's natural to relax at home and it's hard to keep your foot on the accelerator.", recognizes Gabe Vincent. "It's obvious that we love playing at home, in front of our home crowd. It's always positive and, in addition, we've been good at home so far.", continues Caleb Martin.
Shots
Bounces
Players
GM
Minimum
Shots
3 points
LF
Off
Def
Early
pd
bp
Int
CT
party
Points
Jimmy Butler
23
33.8
50.0
25.0
87.1
1.9
4.0
5.9
5.4
2.0
2.0
0.4
1.3
23.2
Tyler Herro
35
32.9
42.9
38.3
87.1
0.7
4.3
5.1
4.1
2.9
0.6
0.2
1.4
20.7
Bam Adebayo
18
32.9
51.9
0.0
75.9
2.7
7.4
10.2
3.2
2.9
1.1
0.3
3.3
18.7
Kyle Lowry
37
34.1
41.8
32.2
84.1
0.6
3.9
4.5
8.3
3.1
1.0
0.4
2.7
13.6
Duncan Robinson
38
28.3
38.9
35.7
81.8
0.4
3.0
3.4
1.4
0.7
0.7
0.2
2.6
12.1
Max Strus
30
23.0
46.9
42.0
77.1
0.4
3.1
3.4
1.2
0.7
0.3
0.1
1.5
11.5
Caleb Martin
31
23.0
50.5
36.8
66.7
1.2
2.6
3.8
1.0
0.8
0.9
0.5
1.6
9.2
Gabe Vincent
33
21.8
44.1
38.4
77.4
0.5
1.6
2.0
2.9
1.5
0.8
0.2
2.1
8.8
pj tucker
35
28.5
49.8
46.6
69.7
1.7
4.0
5.7
2.2
0.9
0.8
0.3
2.3
8.2
Kyle Guy
6
17.1
51.4
45.0
80.0
0.2
1.2
1.3
2.3
0.8
0.7
0.2
1.5
8.2
Markieff Morris
10
18.7
45.7
36.4
100.0
1.3
1.5
2.8
1.4
1.2
0.3
0.1
2.2
7.7
Dewayne Dedmon
34
17.2
58.1
60.0
76.1
1.8
4.4
6.1
0.9
0.9
0.4
0.5
2.2
6.4
Omer Yurtseven
32
15.2
47.9
14.3
64.3
1.8
4.7
6.5
1.1
1.0
0.5
0.5
1.8
5.8
Nik Stauskas
2
11.8
37.5
50.0
75.0
0.5
1.0
1.5
0.5
0.0
0.0
0.0
0.5
5.5
Chris Silva
6
10.5
61.5
0.0
88.9
1.7
2.7
4.3
0.5
0.7
0.0
0.0
2.0
4.0
Kz Okpala
21
11.6
43.5
34.6
72.7
0.5
1.4
2.0
0.7
0.2
0.2
0.3
1.2
3.7
Udonis Haslem
8
6.5
50.0
50.0
100.0
0.5
1.6
2.1
0.2
0.2
0.1
0.1
1.4
3.0
Haywood Highsmith
4
10.4
50.0
57.1
0.0
0.5
0.8
1.2
0.0
0.0
0.0
0.2
0.8
3.0
Marcus Garrett
12
10.7
23.8
25.0
40.0
0.8
1.2
1.9
0.6
0.2
0.4
0.2
1.3
1.1