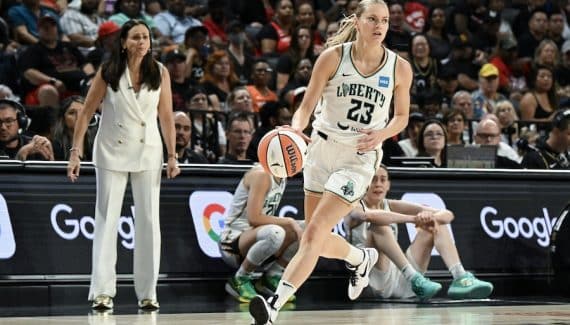 She hadn't played that much since mid-June. Marine Johannes took advantage of the absence of All-Star Sabrina Ionescu, put to rest due to a sore calf, to earn her starting spot with the New York Liberty, against the Connecticut Sun.
And thus benefit from 30 minutes of playing time to show what makes its strength. Contested 3-point shots, "fadeaway" on one leg, laser and creative passes… The Frenchwoman finished second best scorer in the game with 18 points (5/9 on shots including 3/6 from afar), 3 rebounds and 2 passes in the large victory of his formation (89-58).
The tricolor leader-back reached for the fourth time this season the bar of 18 units, her best mark this year. She had scored as many on August 18 before going on two 8-point outings, and after having had a very average start to August, with limited playing time.
" I think I'm more comfortable on the field with my teammates. It wasn't easy at first for me, but I think I know them better now. I'm just trying to find a way to be effective on the pitch and help my team as much as possible. », she said recently.
Over the whole season, Marine Johannes averaged 7.5 points in 19 minutes, which is less than her average of 10 points in 25 minutes the previous season. His shooting percentages (43% including 38% from afar) are also down.
But his team (29 wins – 7 losses), surfing on a series of five wins in a row, remains in contact with the Las Vegas Aces at the top of the league.