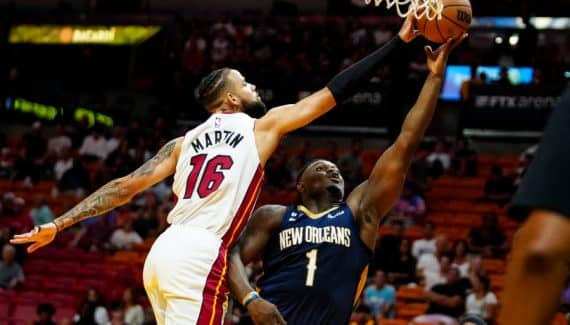 His left foot having turned on a penetration, in the second quarter of the match against Miami, Zion Williamson was examined by the medical staff of the Pelicans, before remaining wisely seated on the bench.
Nothing serious, but the strong winger knew very well what awaited him on social networks…
"Twitter had already done its thing"he laughs. "They are all doctors apparently. When it happened, I got up, saying to myself: 'Ok, that's fine'. I played a few minutes afterwards, I felt good. Then they sent me to the locker room, just to check. We wanted to look into it, a doctor did, and he just said it was a small pain to deal with day to day. But other than that, I feel good. There was no bad news from the doctors. »
Zion Williamson thus ended his meeting with 11 points at 3/7 in 11 minutes, and 4 assists, but his Pelicans were largely dominated by the Heat, already ready for the regular season.
Holder alongside Kyle Lowry, Tyler Herro (23 points in 25 minutes) was skillful and aggressive, as was Bam Adebayo (25 points in 25 minutes). Established as a strong winger, and first defender on Zion Williamson, Caleb Martin held the shock and brought some interesting things, especially on his low post bindings.
On the Pelicans side, who are still waiting for Brandon Ingram, CJ McCollum (3 points at 1/7, 4 assists) was transparent, while Trey Murphy III understood that he had the license to shoot. As usual, Jose Alvarado brought a lot of energy, and he was also one of the only Pelicans to try to blast the Florida defense.
Miami

/

120
Shots
Bounces
Players
Minimum
Shots
3 points
LF
O
D
T
pd
party
Int
bp
CT
+/-
Points
Rating
J. Butler
25
4/5
0/0
4/6
0
2
2
6
0
1
2
0
+20
12
16
C. Martin
24
3/7
1/3
2/2
0
6
6
2
0
0
0
2
+19
9
15
B.Adebayo
25
8/12
0/1
9/12
2
2
4
5
1
1
1
2
+14
25
29
K.Lowry
25
2/7
1/6
0/0
2
7
9
1
2
2
2
0
+14
5
10
T. Herro
25
8/15
5/7
2/2
1
3
4
1
1
1
2
4
+17
23
24
J Cain
6
1/2
0/1
0/0
1
1
2
0
0
0
0
0
+7
2
3
H.Highsmith
6
1/2
1/2
0/0
0
0
0
1
0
0
2
0
+7
3
1
N. Jovic
12
1/3
1/3
3/4
0
4
4
2
4
0
1
0
+6
6
8
D.Dedmon
15
3/5
1/1
1/2
1
3
4
1
3
0
0
1
0
8
11
G.Vincent
17
2/5
2/4
0/0
0
2
2
1
2
1
1
0
-2
6
6
V. Oladipo
18
1/7
0/2
0/0
0
1
1
5
4
0
1
0
-10
2
1
D.Robinson
15
1/4
0/3
0/0
0
3
3
0
2
0
0
0
-14
2
2
Mr Strus
17
3/8
3/7
2/2
0
0
0
2
3
0
3
0
-7
11
5
D.Smith
6
1/2
0/0
0/0
1
2
3
0
2
0
0
1
+5
2
5
J. Bouyea
5
1/1
1/1
1/2
0
2
2
0
0
0
0
0
+9
4
5
40/85
16/41
24/32
8
38
46
27
24
6
15
10
120
141
New Orleans

/

103
Shots
Bounces
Players
Minimum
Shots
3 points
LF
O
D
T
pd
party
Int
bp
CT
+/-
Points
Rating
Z.Williamson
11
3/7
0/0
5/6
1
1
2
4
2
0
0
0
-3
11
12
H.Jones
26
1/3
0/0
4/4
0
0
0
1
3
1
2
0
-16
6
4
W. Hernangomez
26
7/10
0/1
3/4
2
6
8
1
4
1
4
0
-17
17
19
C. McCollum
18
1/7
1/4
0/0
0
1
1
4
1
1
1
0
-12
3
2
T.Murphy III
24
5/11
4/9
1/1
1
3
4
1
1
0
1
2
-16
15
15
Z.Cheatham
17
2/3
0/0
1/2
1
6
7
3
2
0
1
0
-4
5
12
G.Temple
11
2/5
1/3
0/0
1
1
2
1
2
1
0
0
+7
5
6
N.Marshall
24
6/9
0/0
3/3
1
7
8
4
2
1
1
0
-13
15
24
D.Graham
22
1/7
0/4
3/4
0
1
1
2
3
1
1
0
-3
5
1
J.Alvarado
21
5/11
1/4
1/2
1
3
4
3
3
1
1
0
+6
12
12
K.Martin
7
1/2
0/1
0/0
0
0
0
0
2
0
1
0
-6
2
0
D. Plowden
17
1/9
0/5
4/4
2
2
4
0
2
1
2
2
-2
6
3
J.Smart
6
0/2
0/2
0/0
0
1
1
0
1
0
0
0
-7
0
-1
D. Seabron
10
0/3
0/0
1/2
0
2
2
0
0
0
0
0
+1
1
-1
35/89
7/33
26/32
10
34
44
24
28
8
15
4
103
108