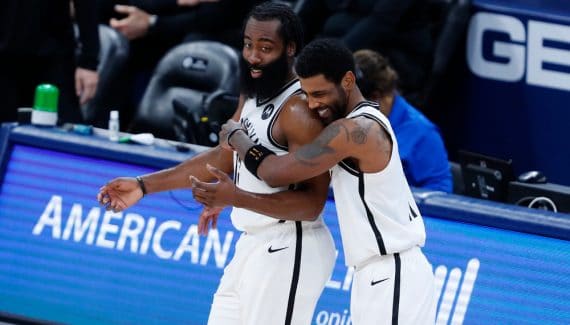 A team that is happy to play away is unusual. Except when it comes to the Nets in the age of the Covid-19 pandemic. Defeated on the floor of the Cavaliers two days ago, the New Yorkers have indeed just started a long sequence of matches played far from their bases.
The next night, they visit the Wizards, before moving on to San Antonio and then Minnesota to end the week. After two home games (Lakers and Nuggets), the Nets will leave for a more perilous "road trip" to the West (Warriors, Suns, Kings, Jazz and Nuggets).
On their next thirteen matches, they must thus occur ten times outside. So many matches where Brooklyn can rely on Kyrie Irving while, at the same time, Kevin Durant is in the infirmary for several weeks.
" Yes, the fact that we have a lot of away matches helps us, the All-Star break (note: weekend of February 20) also takes place at this time "says Steve Nash, quoted by the New York Post. This favorable schedule could thus allow the Nets, currently 3rd in a very dense Eastern Conference on the first six places (about two wins apart), to limit the damage.
No pressure on Kyrie Irving
It should be noted, however, that last season, in the absence of "KD", the Nets had won 16 times in 20 games when the pair Kyrie Irving – James Harden was in play. I want Kyrie to have the time to get his groove back and not overload him by saying, 'Now that Kevin's gone, you gotta take over and be the league's leading scorer' ", However, continues the coach of the Nets.
The latter does not intend to put too much pressure on his leader, who does not intend to review his position on vaccination despite the circumstances. According to Kyrie Irving, he is " impossible to replace the league's top scorer. " We therefore face this reality today by advancing in this 'road trip'. We know that on any given night, James and I can score 30 points each ", he recalls.
For his part, James Harden sees this sequence on the outside as " a great opportunity. After this trip, we have two games at home, then we go back away. This is a great opportunity for us, collectively, to come together and string together the victories."
With 15 wins for 5 losses, Brooklyn is also one of the best traveling teams in the NBA this season.