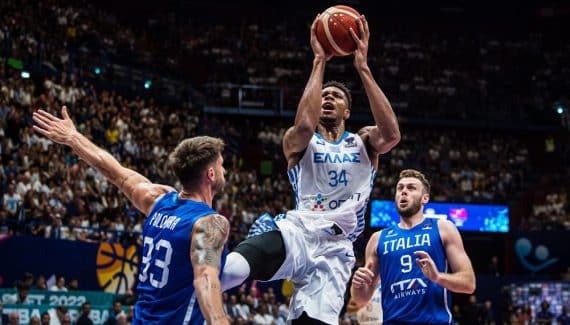 As against Croatia, Greece generally mastered the match against Italy. But as against Croatia, Greece never killed the match and had to make the difference in the "money-time".
However, with the overall impact of Giannis Antetokounmpo (25 points, 11 rebounds, 3 assists, 3 steals), but also the address of Tyler Dorsey (22 points at 6/10 from afar) or Dimitrios Agravanis (13 points at 3/4 from afar), Dimitrios Itoudis' troupe had everything it needed to dominate its hosts of the day, in front of the Milan public.
Italy also ran after the score all match, even finding themselves at 15 points (72-57) 6 minutes from the end. But as always with the Squadra azzura, you have to be careful…
Because the group of Gianmarco Pozzecco is a team of rhythm, which does not need much to ignite.
Simone Fontecchio (26 points) tried everything he could to offer a hold-up to his fans, but a big dunk from Giannis Antetokounmpo, and another 3-pointer from Tyler Dorsey, still with this shift to the right, allowed it's up to Greece to keep their hand… even if Italy had two bullets to go into overtime.
Surprised to find themselves in this situation, the Greek players made no mistake, leaving Simone Fontecchio then Stefano Tonut to try their luck from afar. Two failures that allow Greece to win (85-81) and join Ukraine, victorious over Estonia, at the top of group C with two successes in two games.