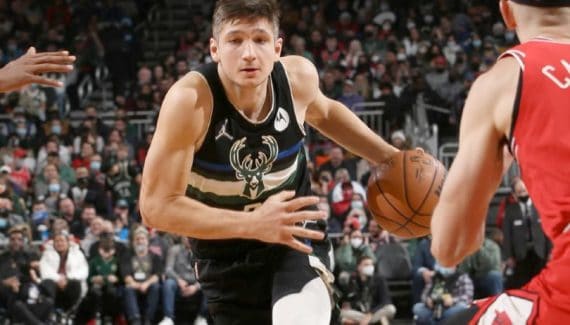 The NBA has not yet decided on the sanction that Grayson Allen will receive for his big foul on Alex Caruso, the Bulls player having fractured his wrist on the spot, his absence is now counted in weeks!
However, the league takes into account the seriousness of the injury caused by a foul and we can therefore think that the Milwaukee player will be suspended for several games, especially since, as a very upset Billy Donovan reminded us, the former Duke player has a "reputation" as a dirty player since his years in the NCAA.
"As Alex was in the air and he sent him to the ground like that, it could have been synonymous with the end of his career" explained the coach. "He's done that before. For me, it was really dangerous. I hope the league will watch this very carefully because it could have ended in a very serious injury. "
Finally, it ended with a serious injury and even if the Bucks defended their comrade, ensuring that he was not a "dirty player", his liabilities risk being taken into account.
Because even if he has calmed down a lot since his arrival in the NBA, his tripping, headlines and other low blows have made him one of the most hated players in the university world, during his four years with the Blue Devils. .
The attitude of the Bucks could also weigh in the balance because the club's Twitter account posted a "Hello" the day after the game against Chicago, complete with a video of Grayson Allen eating a donut. A choice that immediately reacted to the Bulls' Twitter account, which responded with a "Serious? ", resulting in the deletion of the first message. At that time, we did not know the seriousness of Alex Caruso's injury but it was clearly not a very wise choice in the aftermath of the controversial action.
Grayson Allen
Percentage
Bounces
Season
Team
GM
Minimum
Shots
3 points
LF
Off
Def
Early
pd
party
Int
bp
CT
Points
2018-19
UTH
38
11
37.6
32.3
75.0
0.1
0.5
0.6
0.7
1.2
0.2
0.9
0.2
5.6
2019-20
SAME
38
19
46.6
40.4
86.7
0.2
2.0
2.2
1.4
1.4
0.3
0.9
0.1
8.7
2020-21
SAME
50
25
41.8
39.1
86.8
0.4
2.8
3.2
2.2
1.4
0.9
1.0
0.2
10.6
2021-22
MIL
40
28
42.3
39.0
85.7
0.5
2.9
3.4
1.4
1.5
0.8
0.6
0.4
12.0
Total
166
21
42.3
38.4
83.7
0.3
2.1
2.4
1.5
1.4
0.6
0.8
0.2
9.3