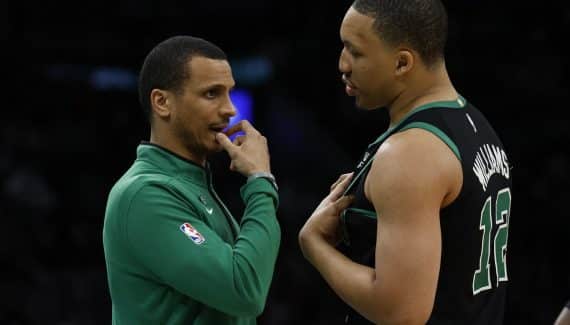 Even if he felt his departure from Boston coming and with his new contract in Dallas, he won his bet, Grant Williams don't leave the Celtics with a smile. He spent the first four seasons of his career there and it's bound to be painful to leave.
"It was really difficult to leave the players", he confirms to Boston Globe. "It was probably the most complicated thing, because I grew up with this group and I achieved great things. I have lots of friends there. I spent so much time here that it's logically difficult, it's like quitting your university. Could I go back there and see the people I knew? »
The end of his adventure was not perfect either. At the end of the season, Joe Mazzulla made the choice to do without Grant Williams and this dismissal was hard to swallow, especially since the player and the coach had established a relationship of friendship. Blake Griffin had then exchanged with his teammate to remind him that he had to remain professional despite everything.
"I had a two-week streak where I was unprofessional which, when I look at it now, disappoints me. I had to understand that being professional is not only in the good times, but also in the bad. »
Did this moment have an influence on his friendship with his coach?
"We can always have disagreements professionally, but the links do not change", says Grant Williams. "I will be there for him and his family if needed. I will always love him as a friend. Even if the season didn't turn out the way we wanted, we still have respect for each other. I will always have compliments for him, he deserves them. He is a good person and a good coach. »
Grant Williams
Percentage
Bounces
Season
Crew
GM
Minimum
Shots
3 points
LF
Off
Def
Early
pd
party
Int
bp
CT
Points
2019-20
BOS
69
15
41.2
25.0
72.2
0.9
1.7
2.6
1.0
2.4
0.4
0.7
0.5
3.4
2020-21
BOS
63
18
43.7
37.2
58.8
0.8
2.1
2.8
1.0
2.6
0.5
0.9
0.4
4.7
2021-22
BOS
77
24
47.5
41.1
90.5
0.8
2.7
3.6
1.0
2.4
0.5
0.8
0.7
7.8
2022-23
BOS
79
26
45.4
39.5
77.0
1.1
3.5
4.6
1.7
2.4
0.5
1.0
0.4
8.1
Total
288
21
45.1
37.9
77.3
0.9
2.6
3.5
1.2
2.4
0.5
0.9
0.5
6.2
How to read the stats? MJ = matches played; Min = Minutes; Shots = Shots made / Shots attempted; 3pts = 3-points / 3-points attempted; LF = free throws made / free throws attempted; Off = offensive rebound; Def= defensive rebound; Tot = Total bounces; Pd = assists; Fte: Personal fouls; Int = Intercepts; Bp = Lost bullets; Ct: Counters; Points = Points.