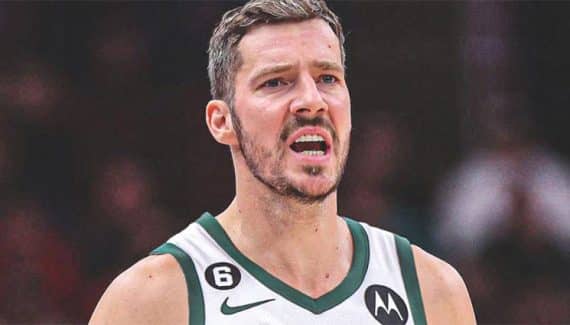 Absent since February 13 due to left knee pain, Goran Dragic, 36, finally made his debut with the Bucks in the win over the Pistons (126-117). An injury that had sidelined him for his last four games with Chicago, as well as his first eleven with Milwaukee. He joined the franchise from Wisconsin on March 4, after being cut by the Bulls, with whom he had played 51 games this season.
If he only played 9 minutes off the bench for his debut with the Bucks, the main thing was elsewhere.
"It's an extraordinary feeling" assured Goran Dragic. "You work hard in the shadows. On public holidays, you come for treatments and everything else. It's a lot of work. It's a lot of work and it's always a nice feeling when you're finally back. It never stops. Now, I'm going to fly, then I have to do treatments tomorrow to be able to play, but I'm happy to be back".
1,000th NBA game
When he entered the game 2 minutes and 22 seconds from the end of the first quarter, Goran Dragic has also reached a new level in his career.
Indeed, his return from injury against the Pistons was synonymous with 1,000th game for him in the NBA: 940 in the regular season and 60 in the playoffs. A mark celebrated by his new teammate, Wesley Matthews.
"It was awesome. I'm happy for him" explained Wesley Matthews. "Coming back from an injury is difficult. Integrating into a new team is also difficult. And for him, being able to play his 1,000th game in the league is quite a milestone. There is nothing to raise eyebrows about. Getting an assist from him was cool.".
In 9 minutes, Goran Dragic was thus "content" with compiling 3 assists and 2 fouls, at 0/2 in shooting.
Goran Dragic
Percentage
Bounces
Season
Crew
GM
Minimum
Shots
3 points
LF
Off
Def
Early
pd
party
Int
bp
CT
Points
2008-09
PHX
55
13
39.3
37.0
76.9
0.6
1.3
1.9
2.0
1.6
0.5
1.3
0.1
4.5
2009-10
PHX
80
18
45.2
39.4
73.6
0.5
1.7
2.1
3.0
1.6
0.6
1.6
0.1
7.9
2010-11*
All Teams
70
18
43.5
36.1
62.4
0.5
1.5
2.0
2.9
1.8
0.7
1.7
0.1
7.5
2010-11*
PHX
48
18
42.1
27.7
60.8
0.5
1.3
1.8
3.1
1.9
0.8
2.0
0.1
7.4
2010-11*
HOO
22
17
47.2
51.9
66.7
0.6
2.0
2.6
2.5
1.6
0.6
1.0
0.2
7.7
2011-12
HOO
66
27
46.2
33.7
80.5
0.8
1.7
2.6
5.3
2.5
1.3
2.4
0.2
11.7
2012-13
PHX
77
34
44.3
31.9
74.8
0.8
2.3
3.1
7.4
2.8
1.6
2.8
0.3
14.7
2013-14
PHX
76
35
50.5
40.8
76.0
0.9
2.3
3.2
5.9
2.7
1.4
2.8
0.3
20.3
2014-15*
All Teams
78
34
50.1
34.7
77.4
1.0
2.5
3.5
4.5
2.5
1.0
2.2
0.2
16.4
2014-15*
PHX
52
33
50.1
35.5
74.6
1.0
2.6
3.6
4.1
2.3
1.0
2.2
0.2
16.2
2014-15*
MIA
26
35
50.2
32.9
80.8
1.2
2.3
3.4
5.4
2.9
1.1
2.3
0.2
16.6
2015-16
MIA
72
33
47.7
31.2
72.7
0.8
3.1
3.9
5.8
2.6
1.0
2.6
0.2
14.1
2016-17
MIA
73
34
47.5
40.5
79.0
0.9
3.0
3.8
5.8
2.7
1.2
2.9
0.2
20.3
2017-18
MIA
75
32
45.0
37.0
80.1
0.7
3.4
4.1
4.8
2.4
0.8
2.2
0.2
17.3
2018-19
MIA
36
28
41.3
34.8
78.2
0.6
2.5
3.1
4.8
2.3
0.8
2.0
0.1
13.7
2019-20
MIA
59
28
44.1
36.7
77.6
0.5
2.7
3.2
5.1
2.1
0.7
2.4
0.2
16.2
2020-21
MIA
50
27
43.2
37.3
82.8
0.5
2.9
3.4
4.4
2.3
0.7
2.4
0.2
13.4
2021-22 *
All Teams
21
24
37.7
25.4
81.8
0.6
2.5
3.1
4.1
2.1
0.9
1.6
0.2
7.5
2021-22 *
BRK
16
26
37.6
24.5
73.9
0.7
2.5
3.2
4.8
2.3
0.9
2.1
0.2
7.3
2021-22 *
TOR
5
18
38.2
28.6
100.0
0.4
2.4
2.8
1.8
1.6
1.0
0.2
0.2
8.0
2022-23 *
All Teams
52
15
42.2
34.9
65.9
0.3
1.1
1.3
2.7
1.3
0.2
1.1
0.1
6.3
2022-23
CHI
51
15
42.5
35.2
65.9
0.3
1.1
1.4
2.7
1.2
0.2
1.1
0.1
6.4
2022-23 *
MIL
1
9
0.0
0.0
0.0
0.0
0.0
0.0
3.0
2.0
0.0
0.0
0.0
0.0
Total
940
27
45.9
36.1
76.6
0.7
2.3
3.0
4.7
2.3
0.9
2.2
0.2
13.3