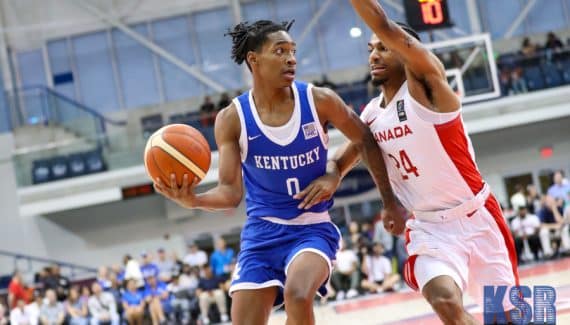 After a first match won in two stages against Germany, Wednesday evening, Kentucky did not make gifts to Canada this time last night for the second game of the program at the GLOBL Jam.
In a full house, shared between Wildcats fans and locals who came to support their U23s, John Calipari's men started the game with their feet on the floor, and never slowed down. Under the impetus, once again, of the great attacking qualities of the veteran Antonio Reeves (23 points at 10/15 on shots), but also from a trio of "freshmen" DJ Wagner (9 points, 2 rebounds and 2 assists), Reed Sheppard (14 points, 2 rebounds, 4 assists and 4 steals and 2 blocks) and Justin Edwards (16 points, 5 rebounds, 3 assists and 2 steals) in great shape.
Kentucky's correctness
Collectively, the Wildcats compiled 27 assists for only 9 ball losses, while displaying great defensive mastery with 12 interceptions and 10 blocks! Under these conditions, the gap at the break was already at +15 (49-34), before reaching almost 30 units in the last act, against helpless Canadians.
Finally, an authoritative victory of 24 points for Kentucky (93-69), under the eyes of a winner Shai Gilgeous-Alexander in any case, since the rear Canadian All-Star made his university lines with the Wildcats.
Next match: Saturday evening (7:30 p.m.) against an African selection. Note that Kentucky is already qualified for the tournament final, regardless of the result of Saturday's game.
Photo credit: Kentucky Sports Radio