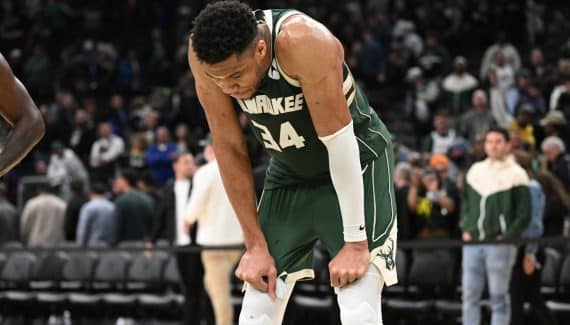 Despite a stewed back, Giannis Antetokounmpo will have given everything in this series against the Heat. That night, he again attacked the defense to get points, but it was not enough since the Bucks are eliminated. Number 1 of the regular season, Milwaukee is already taking the door, and here is what he answers when asked if it is a failure. First, he sighs, and puts his hands in front of his face. Then he launches.
" You already asked me the same question last season. Giannis points out to the reporter. "Do you get a promotion every year? No ! Does that mean that this year was a failure for you? No ! Every year, you work with a goal, and it's about getting a promotion to take care of your family, or something else, like buying a house, taking care of your parents… Working for a goal is not a failure ! These are steps to success. »
Does failure exist in sport?
Then Giannis takes a very simple example, linked to his sport. "Michael Jordan played 15 years, he won six titles. Were the other nine years failures? Is that what you would tell him? ». The reporter responds: No".
"Then why are you asking me the question" continues Giannis. "The question is not the right one. There is no failure in sport. For 50 years the Bucks did not win a title, was it 50 years of failure? »
The "Greek Freak" honors his ancestors, and leaves us with this question of philosophy.