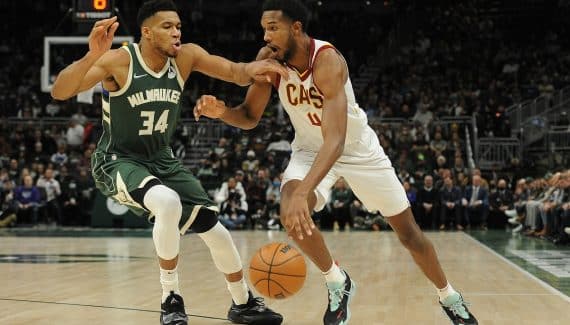 With only 8 points at 2/12 to shoot, Evan Mobley delivered arguably one of his worst games of the season against the Bucks. That didn't stop Cavaliers-stepping Giannis Antetokounmpo from having very, very complimentary words for the youngster inside.
The proof with his first statement: "He can become better than me. » Really ? Better than a two-time MVP, who was also MVP of the 2021 Finals and defender of the year in 2020, before becoming a member of the 76 greatest players in NBA history?
"I don't see why he couldn't"continues Giannis for the Plain Dealer. "During my second season, I didn't have such statistics. He is already ahead of me. It just depends on him. He has the qualities to become an excellent player: he is 2m13, he moves very well, he shoots, he is intelligent. He watches videos of other players and that's great for a youngster. If he is serious, humble and continues to work hard, he can become a very great player. »
"It's only a matter of time before he becomes one of the best interiors in the league"

The Greek promises a bright future to Mobley (14.5 points and 8.5 rebounds on average this season) and to the Cavaliers, who did well to bet on him.
"He draws inspiration from other players, like I did. But everyone is unique, has their own style. Its future looks bright. He plays well, he gives his all, he does everything possible for his team, to win. He has the capacities, the physique and he is hungry, he wants. So it's only a matter of time before he really finds his game, before he has a great season and becomes one of the best interiors in the league. »
The comparison with Giannis Antetokounmpo comes up regularly when we talk about Mobley. What is the latter watching at the Milwaukee All-Star?
"His constant aggressiveness", he answers. "He's still in attack mode. He's got a hell of a drive and he uses his athleticism when needed. I think I can do the same and have the same impact. We have similar templates too. Giannis is a great player and I am striving to become one too, but in my own way. I can learn from the older ones. »
Evan Mobley
Percentage
Bounces
Season
Crew
GM
Minimum
Shots
3 points
LF
Off
Def
Early
pd
party
Int
bp
CT
Points
2021-22
KEY
69
34
50.8
25.0
66.3
2.1
6.2
8.3
2.5
2.1
0.8
1.9
1.7
15.0
2022-23
KEY
19
34
54.1
15.4
70.6
2.6
5.9
8.5
2.4
2.8
1.0
2.3
1.4
14.5
Total
88
34
51.5
23.8
67.2
2.2
6.1
8.3
2.5
2.3
0.9
2.0
1.6
14.9