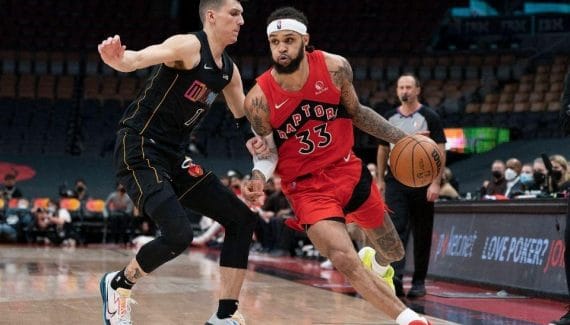 Quietly, in an empty hall, the Raptors continue to climb the standings, and tonight they earned their third straight win. The second in a few days against the Heat, and once again, Gary Trent Jr. dazzled.
The former Blazers guard, who arrived a year ago in exchange for Norman Powell, is finally rid of his physical problems, and tonight he plants 33 points, and it is his fifth game in a row at 30 points and more . He thus equals DeMar DeRozan, the only player in the franchise to have achieved this feat.
"It's a surreal feeling considering what he's achieved for the franchise, the city…" reacts the rear. "Given the type of player he is, his origins, his past… Words fail to share this with him, in view of what he has done and what he represents for this franchise. "
Renowned shooter, Gary Trent Jr. has become a complete attacker, and he does not hesitate to attack his defender in one-on-one. Even when it comes to Jimmy Butler. " Each time he finds himself in isolation, we expect him to score in recent days. No matter what he has to do says Nick Nurse.
"He was more closed in on himself. This year, we discover more of his personality. He talks more
Last night, he was still very skilful from a distance (6/10 from 3-points), and we will remember that it was he who signed an 8-0 to tip the match against Toronto five minutes from the end. For Fred VanVleet, his teammate is a "rock star"!
"He's a rock star in every sense of the word. This year, I really appreciate his passion and level of competition." explains the Toronto point guard. "You know, he started the season being focused on defense, and now you can see he's a fireworker. He is in an incredible area. "
But what was the click? "I think last year there was uncertainty with his free agent status. It was like he was just passing through." continues Fred VanVleet. "He was more closed in on himself. This year, we discover more of his personality. He talks more. He asserts himself more as a leader. "
As with any shooter, confidence is also essential, as well as good results. " When you put your shots and your coach sees that you are hot, he believes in you and he has confidence in you. And he's calling on you" concludes Gary Trent Jr, who played 41 minutes tonight.
Gary Trent, Jr.
Percentage
Bounces
Season
Team
GM
Minimum
Shots
3 points
LF
Off
Def
Early
pd
party
Int
bp
CT
Points
2018-19
ORP
15
7
32.0
23.8
42.9
0.1
0.7
0.7
0.3
0.3
0.1
0.3
0.1
2.7
2019-20
ORP
61
22
44.4
41.8
82.2
0.4
1.2
1.6
1.0
1.5
0.8
0.3
0.3
8.9
2020-21 *
All Teams
58
31
40.8
38.5
78.3
0.5
2.2
2.6
1.4
1.6
1.0
0.7
0.2
15.3
2020-21 *
ORP
41
31
41.4
39.7
77.3
0.5
1.7
2.2
1.4
1.5
0.9
0.8
0.2
15.0
2020-21 *
TOR
17
32
39.5
35.5
80.6
0.4
3.2
3.6
1.3
1.7
1.1
0.7
0.2
16.2
2021-22
TOR
39
35
42.5
39.0
82.3
0.4
2.4
2.8
2.0
2.1
1.9
1.0
0.3
17.8
Total
173
27
42.0
39.2
79.3
0.4
1.8
2.2
1.3
1.6
1.0
0.6
0.2
12.5