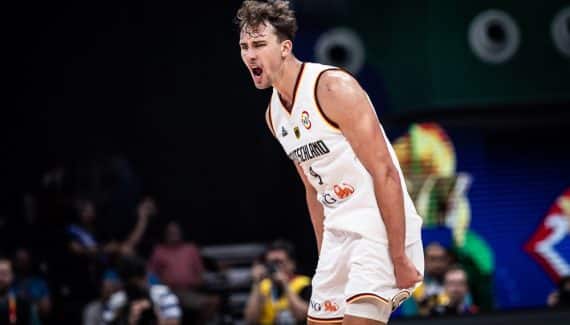 The only team still undefeated in this world Cup is not called Team USA. It is indeed theGermanywho will find precisely… the United States in the semi-finals, this Friday (2:40 p.m.).
After six games, the Nationalmannschaft thus points to six victories and the latest to date took place this Wednesday against Latvia, not without trembling and with a Dennis Schröder yet atrocious in shooting (only 4/26 !!!).
But as her collective is on point, she pulled through, especially since she could count on the return to competition of Franz Wagner.
A timely return
Uncertain for the knockout phase, due to his ankle injury contracted in the opening against Japan, the Magic winger was finally present to support his compatriots during a cleaver meeting, after having spent ten days gnawing his brake on the bench…
" It was a really physical game, every possession counted. We didn't start superbly well, but we made a big effort throughout the game and we deserved it. [la victoire]collectively », said in the mixed zone the German player, revived off the bench by his coach.
Author of 16 points and 8 rebounds in just 24 minutes (5/8 to shoot), Franz Wagner did not seem too rusty on the floor and his contribution was therefore decisive for the formation of Gordon Herbert.
" It is certainly one [de mes matchs les] more important, because I have never played in the World Cup. I'm really happy that I was able to help the team win and that we got an extra lap. I'm happy to be back, I feel good, my ankle held up and I had no problems the whole game. It may have taken me two or three round trips to find my rhythm and regain my confidence, but my teammates allowed me to do it very quickly. They helped me a lot. »
A well-established collective ready to write history
From now on, it is a big piece which stands in the way of Germany, since it will have to dismiss Team USA to reach its very first World Cup final and write a little more history.
" We will enjoy our victory a bit, but also recover, and tomorrow we will focus on the United States and we will make sure that we are ready in two days. "Warned Franz Wagner, aware that the task will be far from easy in the semi-finals.
And in an attempt to bring down the American armada, there is no doubt that the Nationalmannschaft will rely on what has been its strength since the start of the tournament: the team.
" We have 12 very good players and collectively we have brought great basketball to Japan ", rejoiced Franz Wagner, who also had a little word for Dennis Schröder. " Everyone kept playing their game, pushing him up, and he did a great job of staying aggressive, not letting his clumsiness get to him too much, and he was influential in other ways. It's teamwork, so everyone won't be able to put in all their shots, and that's the whole point: that the 12 players are ready. »
Photo credit: FIBA.com
Franz Wagner
Percentage
Bounces
Season
Team
GM
Minimum
Shots
3 points
LF
Off
Def
Early
pd
party
Int
bp
CT
Points
2021-22
ENT
79
31
46.8
35.4
86.3
1.1
3.4
4.5
2.9
2.1
0.9
1.5
0.4
15.2
2022-23
ENT
80
33
48.5
36.1
84.2
0.9
3.2
4.1
3.5
2.3
1.0
2.1
0.2
18.6
Total
159
32
47.7
35.8
85.0
1.0
3.3
4.3
3.2
2.2
0.9
1.8
0.3
16.9
How to read the stats? MJ = matches played; Min = Minutes; Shots = Shots made / Shots attempted; 3pts = 3-points / 3-points attempted; LF = free throws made / free throws attempted; Off = offensive rebound; Def= defensive rebound; Tot = Total bounces; Pd = assists; Fte: Personal fouls; Int = Intercepts; Bp = Lost bullets; Ct: Counters; Points = Points.