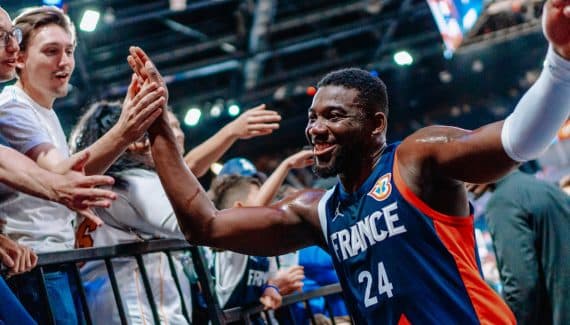 With three consecutive victories, on a comfortable gap of 29 points on average, the French team, attractive as it is, will rub shoulders tonight in Orleans with a big piece of European basketball with Jonas Valanciunas' Lithuania.
Vincent Collet's men know this tough opponent well, having met him in particular during the last Euro, in the group stage (77-73). But Lithuania come this summer without their superstar Domantas Sabonis, as well as two solid Euroleague players in Marius Grigonis and Rokas Giedraitis.
Very good as soon as they entered the game against Venezuela, Yakuba Ouattara And Terri Tarpey (including author of six consecutive points) are preparing for a strong match. A real test – match!
"We haven't had a lot of training yet, and we won't have many before the start of the competition," explains Ouattara. "So you have to use these matches to test things"
"Lithuania will be our first real test"
With the inside pair Valanciunas – Motiejunas, and a host of wing-backs capable of putting in shots from long range, including veteran Mindaugas Kuzminskas, not to mention Barcelona playmaker Rokas Jokubaitis, the Baltic nation remains a formidable opponent.
"Lithuania will be our first real test in this preparation. I think the guys know them pretty well"adds Terry Tarpey. "It's good to have been able to proceed in two blocks, the first to find our game and our own functioning. We share the ball well and we will continue to do so! And then, with the second block, we have big games to play, which will prepare us for the competition. »
"It will be important for us to win. I don't want to be fucked! »
Dominating the rebound against the small South American nation on Monday evening, the Blues of Rudy Gobert and Moustapha Fall will have to roll up their sleeves against the more physically imposing Lithuanians. Control of the defensive rebound will still be at the heart of the debates in the tricolor locker room! Just like the communication on the movements in zone defense…
"The basis of defense is communication," continues Ouattara. "To know where we are, who is doing what, to know that there is someone behind to ensure. This is an area in which we are making progress. It's much better than in the previous two games. We still have room to do even better than that. »
New teammates in Monaco, Tarpey and Ouattara (but also Elie Okobo and Yoan Makoundou, even Matthew Strazel, the training partner) will find one of their club comrades in Donatas Motiejunas. And it seems that the bets are already open on the Rock!
"Lithuania has dominant interiors, so it's going to be a real test for us. I'm going to find one of my teammates [Donatas Motiejunas] of Monaco who really wants to fight us," explains Ouattara. "We talked a bit and I know how it's going to be. It will be important for us to win. I don't want to be fucked [rires] ! »
"Everyone understands their place"
Automatically back down on the totem pole with the returns of the innkeepers, Batum and De Colo, Tarpey takes advantage of this preparation (although this is shortened to 28 days by NBA regulations) to fulfill his role as well as possible, he who had been the surprise of the chef during the last Euro.
"It was a big opportunity for me to play last year without the NBA players. Now, we are trying to find the best chemistry with Nando and Nico back. This preparation is the time for me to find my place in the team. I had a good discussion with the coach and I now feel very comfortable in my role. »
A duty player and outstanding defender, Tarpey is, like Ouattara, one of the strong links in the French defensive edifice. When it is necessary to wrestle with the scorers of the Canadian armada, including the All-Star Shai Gilgeous-Alexander, and the others in the following rounds, the Blues can count on their trimmers from the Rock.
"We have a very good interior-exterior balance in the team this year. And my role in all of this is to bring movement, to move around without the ball.concludes Tarpey. "Guys in general understand what their role is, that's what we missed last year. With the players back and the experience we have in the team, everyone understands their place. It is important to respect this hierarchy if we want to go far in the competition. »
Interview in Orléans
Photo credit : Lenoir/TheAgency/FFBB