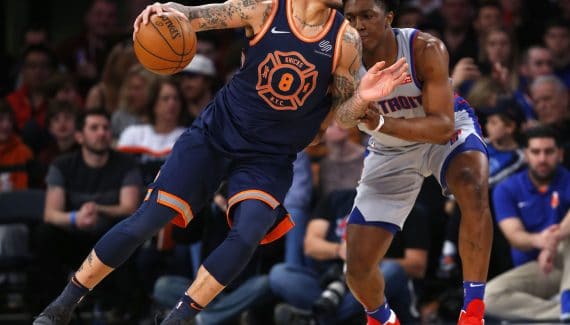 " He will have a nice contract to negotiate… ", imagines Kevin Durant, in January 2018. The Warriors player at the time refers to the contractual situation of his friend, Michael Beasley. The latter signed up a few months earlier with the Knicks, with a one-year contract at minimum wage ($1.4 million).
The second choice of the 2008 Draft intends to revive in New York after a succession of inconclusive experiences, and short for the most part, in Phoenix, Miami, Houston or Milwaukee.
With the Knicks, the winger rediscovers the joys of the five major, with thirty tenures in this 2017/18 financial year. He is also delighted to evolve alongside Kurt Rambis, then assistant to Jeff Hornacek, for what will be his last experience of the genre.
It was with him that Michael Beasley had signed his best season on a personal level at Wolves, coached by Kurt Rambis, with 19 points on average in 2011. In a long interview at Hoopshypewhere he now expresses his desire to return to the NBA, the winger remembers the day when Kurt Rambis came to him during the season, after fifteen games played.
I learned that my mother had cancer
" He asked me if I thought I should play. I answered yes. He said to me: 'Before I ask you why, every time you go on the pitch, show the coach why you should play.' I had a reason to play. Off the field, no one knows, but I found out my mom had cancer at the start of training camp in New York. It was an additional motivation. I used to drive after every game and practice until Baltimore."
Because of this family dimension, the winger imagines himself staying in New York for a long time. Especially since at the heart of the collective slump, he finished 4th best scorer on his team with more than 13 points on average. " On the return flight from the last game, they fired Jeff Hornacek. They asked Corey Gaines to conduct the end-of-season interviews. He listed in front of me my statistics for the year. In my head, I told myself that I had finally succeeded, that I was going to get a good contract and that I was going to be fixed for at least three years."
Two first years at the Heat, who had drafted him, two years in Minnesota… Michael Beasley has in fact never landed beyond two years in the same franchise. On the day of this interview, Steve Mills, the president, is also present. Facing the player at the end of the contract, the leaders send him: " Michael Beasley is one of the most talented players to wear the Knicks jersey, but how does that help us win?"
The 29-year-old is left speechless. " After 20 or 30 seconds of silence they said positive things and that they would keep in touch with my agent"continues the player. "It's not the part that hurt me. I was so close to my mom, and my dream was to play Washington and be home, but being in New York was just as good as playing Washington to be close to my mom."
Give me at least an extra million dollars
Free agency and negotiations begin. The Knicks offer the former Kansas State to stay but for one more season. And most importantly, minimum wage again. " I figured that wasn't fair, give me at least an extra million bucks. "
Meanwhile, the Knicks sign a direct competitor to his position, Mario Hezonja. The latter's rating, after three average seasons in Orlando, may not be much higher. But he has the advantage of being younger (23 years old). On the table: a nice one-year contract for $6.5 million. " They gave him my jersey number and the contract that I was asking for ", grumbles the veteran.
This choice of New Yorkers " constrained Michael Beasley to finally commit to the Lakers for one year and $3.5 million. " People think I wanted to go sign in Los Angeles. It's not that I didn't want it, but Los Angeles and Oklahoma City were the other teams that wanted me. Flying six hours after being three or four hours away from my mother weighed on me. That's what hurt me. I didn't deserve this, and she didn't deserve this."
She died of cancer in December 2018, a few months after her son arrived in California.