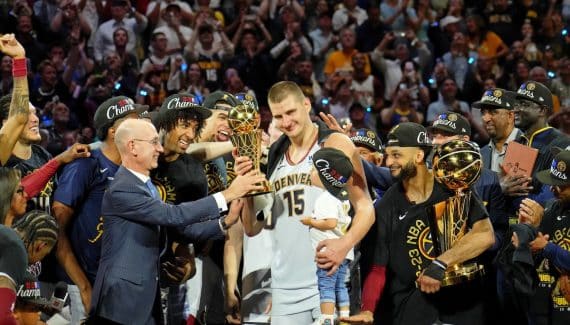 By winning the NBA title last June, Nikola Jokic climbed a little higher in the hierarchy of the best Europeans in history.
It is currently difficult to know what place the Serbian pivot occupies in this ranking because the 27-year-old player, like Giannis Antetokounmpo, is perhaps only in the middle of his career in the Great League.
For Toni Kukocwho is pleased to have " said a lot of good things about him (at a time when) no one was talking about him yet », the double MVP is well on his way to reaching the top thanks to his unique qualities.
" Thanks to his basketball knowledge and intelligence, he compensates for his lack of athletic qualities. It doesn't show because he plays at his own pace, you don't notice that someone is faster or more agile than him. He will do it until the end of his career. I don't know if he's ever reached 50% of what he can do. He will be the best European (all time). From a statistical point of view, this will probably be the case ", bets the former Bulls legend, taken up by BasketNews.
The NBA's view of European players has changed
There is little doubt that the numerical volume will reach record levels with him, who came close last season with a triple-double average, and Giannis Antetokounmpo. What about career "level"?
On this, the Hall of Famer and three-time NBA champion with the Bulls cites the " Drazen (Petrović), Dino (Radja), (Vlade) Divac(Arvydas) Sabonis ", as many European legends as Nikola Jokic would have " not yet reached ".
If the four players are all members of the Basketball Pantheon and have had a huge impact as precursors of the Old Continent in the Great League, none can compete with the current NBA record of the Nuggets pivot, already twice voted best player in the NBA, in addition to five All-Star selections and as many All-NBA selections.
" I think it will become (such a player) at the end of his career, but when it comes to Sabonis or Drazen… Let me play in the NBA now that everything is known, that we have YouTube, that the confidence of the coaches (towards international players) has completely evolved compared to our arrival, I think our statistics would be much better », Rightly judges the Croatian.