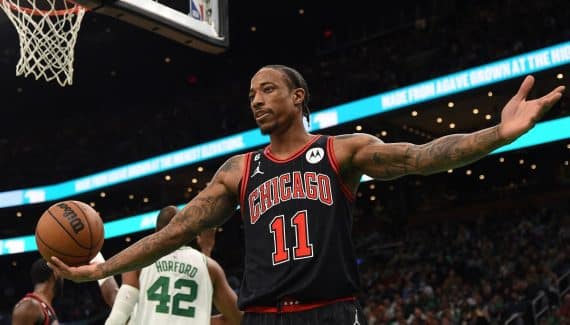 Never change a winning team. Or in this case, a strategy. In their first duel against the Bulls, Nick Nurse and the Raptors made a strong and profitable choice: block at all costs DeMar DeRozan.
Deprived of Zach LaVine to relieve him, the back had managed to register 20 points, despite taking two, but shooting only nine times and the Bulls had lost.
"He's a mega star"had then declared the coach of the Raptors for The Athletic. "We stopped him and he still scored 20 points… We gave it our all, with all the means available, and yet he scored 20 points. »
For the second game between the two teams, Nick Nurse and his troops did not change tactics. This time, the former Toronto had Zach LaVine by his side and above all, he was prepared for this aggressive defense. He therefore served as a decoy in attack, finding his teammates open, and not forcing anything.
"It's not about me finishing as the team's top scorer every night, or about LaVine," commented DeMar DeRozan, who finished with 9 points, 7 assists and just six shots attempted. "You have to play fair, that's how the defenses won't know how to block us. If we block LaVine or me, then the others will do the work. It's fun when everyone is involved. Faced with a defense like that, I'm not frustrated, it's just a matter of patience. The most important thing is to win and if I have to distribute for that, then I agree. »
"The whole team has to be threatening"
In this Chicago victory, Zach LaVine finished top scorer with 30 points and eight players, including DeMar DeRozan, finished with at least nine units on their counter.
"It's a proof of his greatness in my opinion"launches Billy Donovan, admiring. "Because he gave everything for the good of the team. Spinning the ball, he found LaVine and LaVine had a lot of catch-and-shoot open shots. My goal is to hope to have between five and seven players with more than ten points at the end of the 82 regular season games. The whole team needs to be threatening. »
For the Bulls coach, this is especially good news because relying only on the DeRozan – LaVine duo means taking the risk of running out of ammunition and solutions if the two stars are suffocated by the defense. opponent. Or if one is missing, Zach LaVine especially, still as fragile with his knee.
"The player next to them has to do the right thing," announces the coach. "You can't rely on DeRozan to score 46 points like he did in Boston. It can happen some nights because he is very strong. But this is not tenable on a daily basis. We need the whole team. »
DeMar DeRozan
Percentage
Bounces
Season
Crew
GM
Minimum
Shots
3 points
LF
Off
Def
Early
pd
party
Int
bp
CT
Points
2009-10
TOR
77
22
49.8
25.0
76.3
0.0
2.0
2.9
0.0
2.0
0.0
0.0
0.0
8.6
2010-11
TOR
82
35
46.7
9.6
81.3
0.0
2.0
3.8
1.0
2.0
1.0
1.0
0.0
17.2
2011-12
TOR
63
35
42.2
26.1
81.0
0.0
2.0
3.4
2.0
2.0
0.0
1.0
0.0
16.7
2012-13
TOR
82
37
44.5
28.3
83.1
0.0
3.0
3.9
2.0
2.0
0.0
1.0
0.0
18.1
2013-14
TOR
79
38
42.9
30.5
82.4
0.0
3.0
4.3
3.0
2.0
1.0
2.0
0.0
22.7
2014-15
TOR
60
35
41.3
28.4
83.2
0.0
3.0
4.6
3.0
2.0
1.0
2.0
0.0
20.1
2015-16
TOR
78
36
44.6
33.8
85.0
0.0
3.0
4.5
4.0
2.0
1.0
2.0
0.0
23.5
2016-17
TOR
74
35
46.7
26.6
84.2
0.0
4.0
5.2
3.0
1.0
1.0
2.0
0.0
27.3
2017-18
TOR
80
34
45.6
31.0
82.5
0.0
3.0
3.9
5.0
1.0
1.0
2.0
0.0
23.0
2018-19
SAN
77
35
48.1
15.6
83.0
0.0
5.0
6.0
6.0
2.0
1.0
2.0
0.0
21.2
2019-20
SAN
68
34
53.1
25.7
84.5
0.0
4.0
5.5
5.0
2.0
1.0
2.0
0.0
22.1
2020-21
SAN
61
34
49.5
25.7
88.0
0.0
3.0
4.3
6.0
2.0
0.0
1.0
0.0
21.6
2021-22
CHI
76
36
50.4
35.2
87.7
0.0
4.0
5.2
4.0
2.0
0.0
2.0
0.0
27.9
2022-23
CHI
12
34
50.3
23.5
90.3
0.0
3.0
4.2
4.0
2.0
1.0
2.0
0.0
23.8
Total
968
34
46.5
28.8
83.8
0.0
3.0
4.4
3.0
2.0
0.0
2.0
0.0
20.8