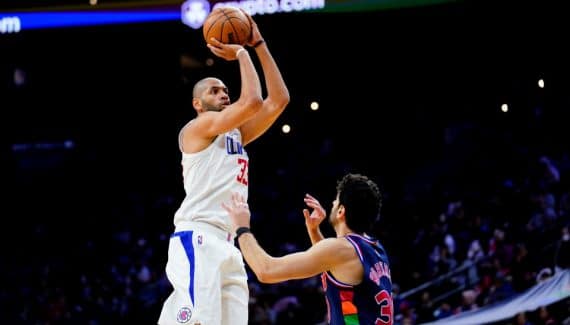 For the second time this month, the Clippers won a game after trailing by 20 points. Friday night, Tyronn Lue's players trailed by 24 points before pulling off the perfect hold-up with a one-point success in Philadelphia. Marcus Morris' missed shots gave everyone a few sweats, but Reggie Jackson was able to let his joy explode. A real electric battery, who regained his smile and his enthusiasm after this robbery. Even if he admits that it was complicated to contain Joel Embiid, author of 40 points.
"I'm not going to lie, there are players you can't stop. We can just try to slow them down," admits Jackson after Jokic and Embiid combined for 89 points against the Clippers. "We did the best job we could to slow him down and he planted 40 points, and we mostly contained the others from him. "
To slow down or hinder Embiid, the Clippers were able to count on Nicolas Batum, author of a decisive interception in the "money time". The Frenchman was already back after a false positive test, and he once again showed how valuable he is. And Jackson remains his first fan, whereas they are almost of the same generation.
" I know it's crazy, but Nico came to the NBA at 18, and I was 15-16. At that age, it's as if we were five years apart." he explains in press conference. "I was watching it in Portland. Being a basketball fan, I obviously grew up being a Bulls fan, but despite all his injuries, I was a fan of Brandon Roy. I saw him progress, turn a corner, and they drafted Nico at 18. I saw him being able to do everything on a pitch, dribble, create and defend on anyone".
For Jackson, Batum is the archetype of the anti-star, and before this press conference, on the ground, he had made his declaration of love. " He puts important shots, one after the other. He defends on the leader, he defends on the pivot. He never complains. He must be the best glue guy in the NBA. He was one of the top favorite players growing up, and I'm just honored to play with him. He moves us forward. "
Nicholas Batum
Percentage
Bounces
Season
Team
GM
Minimum
Shots
3 points
LF
Off
Def
Early
pd
party
Int
bp
CT
Points
2008-09
ORP
79
18
44.6
36.9
80.8
1.1
1.7
2.8
0.9
1.8
0.6
0.6
0.5
5.4
2009-10
ORP
37
25
51.9
40.9
84.3
0.9
3.0
3.8
1.2
2.2
0.7
0.7
0.7
10.1
2010-11
ORP
80
32
45.5
34.5
84.1
1.4
3.2
4.5
1.5
2.4
0.9
1.0
0.6
12.4
2011-12
ORP
59
30
45.1
39.1
83.6
1.4
3.2
4.6
1.4
1.8
1.0
1.5
1.0
13.9
2012-13
ORP
73
38
42.3
37.2
84.8
1.3
4.3
5.6
4.9
1.9
1.3
2.6
1.1
14.3
2013-14
ORP
82
36
46.5
36.1
80.3
1.4
6.0
7.5
5.1
1.9
0.9
2.5
0.7
13.1
2014-15
ORP
71
34
40.0
32.4
85.7
0.9
5.0
5.9
4.8
1.5
1.1
1.9
0.6
9.4
2015-16
CHA
70
35
42.6
34.8
84.9
0.8
5.3
6.1
5.8
1.6
0.9
2.9
0.6
14.9
2016-17
CHA
77
34
40.3
33.3
85.6
0.6
5.7
6.3
5.9
1.4
1.1
2.5
0.4
15.1
2017-18
CHA
64
31
41.5
33.6
83.1
0.9
3.9
4.8
5.5
1.1
1.0
2.1
0.4
11.6
2018-19
CHA
75
31
45.0
38.9
86.5
1.0
4.3
5.2
3.3
1.9
1.0
1.6
0.6
9.3
2019-20
CHA
22
23
34.6
28.6
90.0
1.1
3.4
4.6
3.0
1.9
0.8
1.0
0.4
3.6
2020-21
LAKE
67
27
46.4
40.4
82.8
0.8
4.0
4.7
2.2
1.5
1.0
0.8
0.6
8.1
2021-22
LAKE
27
26
50.0
41.4
68.2
0.4
4.3
4.8
1.6
1.5
1.0
0.9
0.8
9.3
Total
883
31
43.7
36.2
83.9
1.0
4.2
5.2
3.6
1.7
1.0
1.7
0.6
11.2