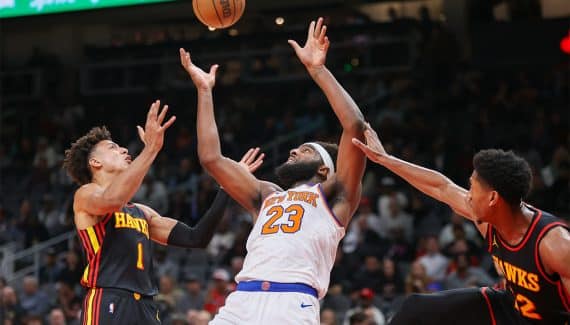 Mitchell Robinson again had quite a harvest against Charlotte: 11 offensive rebounds. The Knicks pivot has therefore recovered 78 missed shots from his team since the start of the season, which makes him, by far, the best offensive rebounder in the NBA, far ahead of Ausar Thompson (53), Kevon Looney (52) or Rudy Gobert (52).
To properly situate its impact, which makes the Knicks the 2nd best team in offensive rebounding in the Great League (35.5% of shots recovered), just behind the Jazz, it is necessary to understand that all Thunder players recovered 101 rebounds offensive since the start of the campaign. Same thing with the Bucks!
"It's just effort. That's all " he answers however at the New York Post. "If a guy shoots on the left, nine times out of ten the ball ends up on the right. It is a matter of common sense. Nothing more ".
No technique or secret therefore, for the pivot. Just his height (2m13), long arms, desire and logic.
Already the 3rd best offensive rebounder in Knicks history
However, with his 6 offensive catches per game since the start of the season, Mitchell Robinson is already the 3rd best offensive rebounder in the club's history. With 1,116 catches on this side of the floor, he has just overtaken Bill Cartwright (1,112) and remains only behind Charles Oakley (2,580) and Patrick Ewing (2,568).
"He will be at the top of this list in the end"assures Tom Tom Thibodeau. "He had an exceptional year last year, people didn't recognize how well he was playing. I think this year it's taken to another level. He has progressed a lot. He is essential for our team. His teammates, coaches and organization greatly appreciate him for all the little things he does to help the team succeed. »
It must be said that Mitchell Robinson needs these offensive rebounds to be involved offensively in New York. The Knicks have no system for him and so his points come either when he goes up after taking the offensive rebound, or when he is served in the paint, on the ground or in the air, when his player comes to help.
His impact on rebounding but also on deterrence, coupled with the fact that the Knicks have the 5th best defense at the start of the campaign, therefore make him a legitimate candidate for the All-Defensive Teams.
"I'm a defender, so that's one of my goals. That's why I try to avoid having foul problems as much as possible. To be intelligent. I can't block every shot but I can hinder them. »