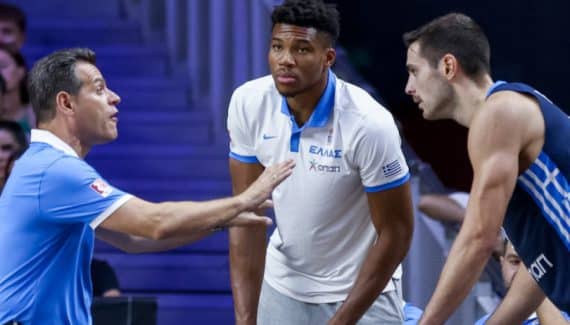 His teammates waited for him to return from the locker room, in the middle of the floor, next to the celebrating Germans. Giannis Antetokounmpo returned to his team, his face marked, for a last collective cry. A few minutes earlier, the Greek had been penalized for an unsportsmanlike foul.
With his expulsion, the last hopes of an improbable return flew away for good. His team was already trailing by 14 points, the host country heading towards the semi-final. Candidate at least for the podium like Serbia, Greece will not pass the quarter-final stage. This defeat goes badly in the camp of the beaten. When leaving the floor, Kostas Antetokounmpo dries his tears in his jersey. His brother, Thanasis, must comfort him.
Before returning to his locker room, Dimitrios Itoudis takes the time to briefly chat with the Greek fans. He shakes hands and signs autographs. A bit later, the coach says : " I would like to say a big congratulations to my team. These are tough times, and you have to get up when you fall."
This defeat, he has no choice but to accept it. " It was a man-to-man fight on the ground. Germany was better. But this is only the beginning. We must learn great lessons from this. Each of us. I would like to say that we really enjoyed the course. I think we made a lot of people proud of the performance of this team. We wanted to win the war, but that didn't happen."
Imitate Spain
Its chief "warrior", Giannis Antetokounmpo, however, gave everything. Before being expelled, the best scorer in the competition signed a new hellish performance (31 points at 13/22, 7 rebounds and 8 assists).
A dominance in the game and statistics, as well as an inspiration for the team. " As for him and working with him, it's easy because he's very motivated. He is a very humble person. His overall approach to life and sport is exceptional "Judges his coach. The latter adds: He really needs to breathe now, see something else, return to the NBA in good health, to win titles there and come back when it is allowed and possible to help his national team."
Appointed last March at the head of the selection, Dimitrios Itoudis hopes that this first experience, " important for him, with the NBA champion with the Bucks going to call others.
The coach thus takes Spain as an example, which has bet on the continuity of its "coaching staff" to still be there for the semi-final. " Congratulations to Sergio Scariolo, my friend, and to the Spanish federation. They have created habits, and it's great", Congratulates Dimitrios Itoudis.