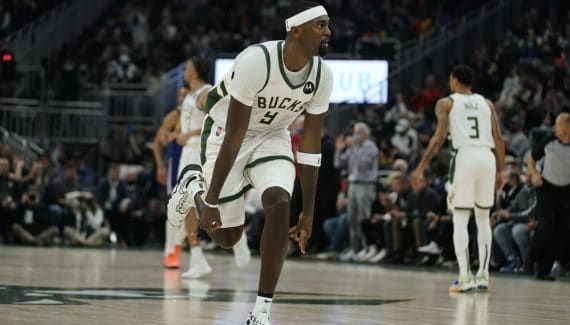 Yet defending champion, Milwaukee is living a fairly discreet season. The Bucks are not worrying, even if they are struggling in the long term to display the level of recent seasons, nor very reassuring, even if a few big victories are worth highlighting here and there.
Clearly, Giannis Antetokounmpo and his teammates have many faces and they are surely waiting for spring and the playoffs to show the most beautiful and impressive.
Except that before that, there is a regular season to play and with a current fifth place in the Eastern Conference, Milwaukee must maintain a certain level of seriousness, especially in the coming days.
"These are dangerous days in the NBA", explains Bobby Portis at the Milwaukee Journal Sentinel. "Guys are starting to think about the All-Star Game cut and the vacation. I try to stay focused on these 10-11 games still to play, because there are big games on the program. "
"A few years ago, we were talking about the Western conference, its competitiveness. Now that's how it is in the East"

Until February 18, Bobby Portis and his gang will have to face Denver, the two teams from Los Angeles, Phoenix or even Philadelphia. Without forgetting matches against the Wizards or a double confrontation against Portland, which can turn into a trap.
With 30 wins and 20 losses, the Bucks are only 2.5 wins ahead of seventh place (currently Charlotte), which no longer qualifies directly for the playoffs. These next three weeks are therefore clearly not to be neglected because the Eastern Conference is no longer the same.
"It's pretty crazy. A few years ago, we were talking about the Western conference, its competitiveness. It was "Wild Wild West". You had to win at least 50 matches to make the playoffs, and even then it wasn't always enough." recalls the former Chicago interior. "Now it's like that in the East. All teams are fighting for places. With three or four defeats in a row, we are in "play-in". With three or four victories in a row, we are on the podium. It's really competitive and every match is difficult to win. There are no more matches that you could circle on the calendar and say to yourself: this one is a guaranteed victory. There, 13 teams can make the playoffs in the East. "
Shots
Bounces
Players
GM
Minimum
Shots
3 points
LF
Off
Def
Early
pd
bp
Int
CT
party
Points
Giannis Antetokounmpo
39
32.7
53.1
28.2
71.4
1.8
9.5
11.3
6.0
3.5
1.0
1.5
3.3
28.6
Khris Middleton
37
32.0
44.2
39.1
88.6
0.6
5.1
5.7
5.3
3.2
1.1
0.3
2.4
20.1
Jrue Holiday
36
32.6
49.3
38.6
74.2
0.9
3.7
4.6
6.4
2.7
1.5
0.6
1.8
18.2
Bobby Portis
40
28.7
47.3
41.4
76.9
2.9
6.6
9.5
1.3
1.6
0.7
0.9
2.8
15.0
Grayson Allen
41
28.1
42.3
39.1
85.7
0.5
2.9
3.4
1.3
0.6
0.8
0.4
1.5
11.8
Pat Connaughton
46
27.6
47.3
40.4
81.1
0.7
3.8
4.5
1.4
0.7
1.0
0.3
1.3
10.5
Demarcus Cousins
17
16.9
46.6
27.1
81.6
1.4
4.4
5.8
1.1
0.9
0.9
0.5
2.7
9.1
Jordan Nwora
37
20.3
41.3
37.5
73.7
0.7
3.4
4.1
1.0
1.0
0.5
0.4
1.2
8.6
Brook Lopez
1
28.2
33.3
50.0
0.0
2.0
3.0
5.0
0.0
0.0
1.0
3.0
3.0
8.0
george hill
39
25.8
44.1
31.9
95.8
0.9
2.4
3.3
2.5
0.9
0.7
0.1
1.4
7.2
Donte Divincenzo
10
18.9
26.9
28.9
90.5
1.3
2.9
4.2
1.5
1.3
0.6
0.3
1.7
6.8
Wesley Matthews
21
20.6
45.8
39.5
50.0
0.6
1.5
2.1
0.8
0.4
0.5
0.2
1.8
6.3
Sandro Mamukelashvili
24
11.4
42.7
37.1
75.0
1.1
1.1
2.2
0.5
0.4
0.3
0.2
0.7
3.6
Rodney Hood
35
15.7
36.4
31.6
92.9
0.3
1.5
1.9
0.8
0.2
0.3
0.1
0.7
3.6
Thanasis Antetokounmpo
28
11.8
46.3
9.1
62.5
1.1
1.7
2.8
0.7
0.6
0.5
0.2
1.9
3.3
Semi Ojeleye
17
17.1
22.4
23.1
81.8
1.5
1.9
3.4
0.3
0.3
0.3
0.3
1.5
2.8
justin robinson
17
11.6
31.6
27.0
100.0
0.1
0.6
0.8
1.2
0.6
0.5
0.0
1.0
2.8
Ja'vonte Smart
13
12.3
25.6
22.2
83.3
0.3
1.2
1.5
1.1
0.7
0.3
0.2
0.8
2.4
Lindell Wigginton
1
4.5
100.0
0.0
0.0
0.0
1.0
1.0
0.0
0.0
1.0
0.0
0.0
2.0
Georgios Kalaitzakis
9
5.3
45.5
50.0
44.4
0.4
0.4
0.9
0.0
0.4
0.1
0.1
0.9
1.8
Langston Galloway
3
16.2
7.7
0.0
0.0
0.7
2.7
3.3
2.3
0.3
0.3
0.0
0.7
0.7
Javin Delaurier
1
2.8
0.0
0.0
0.0
0.0
1.0
1.0
0.0
0.0
1.0
0.0
1.0
0.0
Luke Kornet
1
3.0
0.0
0.0
0.0
1.0
0.0
1.0
0.0
0.0
0.0
0.0
1.0
0.0
Jeff Dowtin
1
3.0
0.0
0.0
0.0
0.0
0.0
0.0
0.0
0.0
0.0
0.0
0.0
0.0