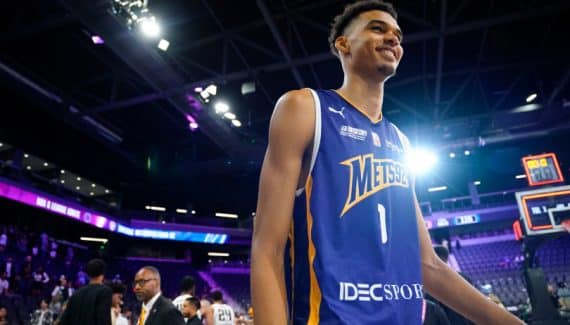 Every outing from Victor Wembanyama until the end of the season will now be scrutinized by the entire basketball world. For his return to Betclic Elite after the Metropolitans 92 getaway to Las Vegas, the interior did not disappoint. Author of 24 points, 9 rebounds, 2 blocks and 1 interception in 36 minutes, he actively participated in the overtime victory of his team on the floor of Le Mans (89-94).
Despite his impressive slaughter, his coach Vincent Collet wanted to salute his development between the first and second half, recalling all the room for improvement that Victor Wembanyama still had in front of him.
"In the first half, Victor plays out of tune, he has to accept this fight, where it is embarrassing for the opponents. It was near the circle that he found the mouse holes, it's a paradox when you see its size. He has almost all the weapons, it's a matter of choice. It's interesting to see the corrections between his first half, pale, and his second, remarkable. He is only 18 and a half. He needs to gain confidence. He stays the course and has managed to pull himself together magnificently. The ability to react is what is most important for a great player. He is very motivated, focused. He must work on his choices and the balance of power ", he said after the meeting.
Note that former NBAer Tremont Waters was the other main threat on the Boulogne-Levallois side with 26 points in 28 minutes. Hugo Besson for his part compiled 10 points, 4 assists and 3 steals in 21 minutes.
Future No. 1 pick Victor Wembanyama was unreal again today. 24 points, 9 rebounds, 3 blocks and the important road win in OT versus previously undefeated Le Mans, including plenty of dunks, 3s and tremendous defensive plays. +17 in a narrow win. pic.twitter.com/AmfHTjgGga

—Jonathan Givony (@DraftExpress) October 15, 2022