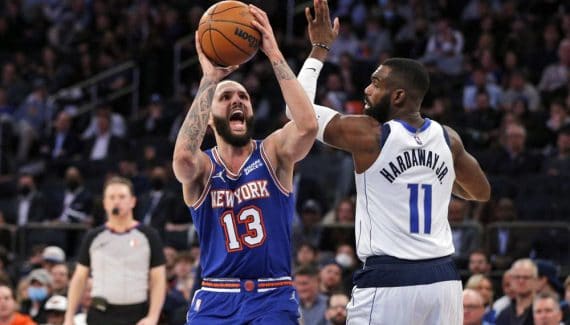 In these times of pandemic and Covid-19, it is not good to be "positive". Except in the NBA, where that means we won at least 50% of the matches. For the first time since December 7, the Knicks are indeed balanced with 21 wins for 21 losses.
The New York players have succeeded in this thanks in particular to a series of four successes in five matches, the last of which against the Mavericks (108-85), who remained on six victories in a row, is the most remarkable.
"It's our best victory for a while", rejoices Evan Fournier for the New York Post. "It was very nice to play like that. This match must become a habit. »
With 91 points scored, including 32 just for RJ Barrett, the Knicks' five major dominated the entire Dallas team, maintained at only 85 units (41% shooting success and 26% at 3-pts).
"Our starters have been fantastic. It may be their best game of the season. They played hard and fair. They were aggressive towards the basket and turned the ball well," notes Tom Thibodeau. "When we share the ball, defend and run like that, it's hard to stop", adds RJ Barrett.
In one evening, the franchise of the Big Apple has thus made a double blow: to return to the positive and make a reference match. But for Tom Thibodeau, it's not the end, but the beginning of something. It will have to be confirmed in the next few days.
"I see things like this: do we play basketball well? », asks the coach. "We also have to follow up. I hope we are not satisfied with that. There is still a long way to go. We have to keep fighting and we can't see ourselves higher than we are. We know we gotta be ready for Atlanta now (this Saturday). Nothing is done, we have to take the matches one after the other. This is the mentality you need to have. »
Shots
Bounces
Players
GM
Minimum
Shots
3pts
LF
Off
Def
Early
Pd
Bp
Int
CT
Fte
Points
Julius Randle
39
35.5
41.6
31.2
76.4
1.8
8.4
10.2
4.8
3.5
0.8
0.6
2.8
19.0
Rj Barrett
34
31.6
41.0
34.8
69.2
0.7
4.7
5.4
2.4
1.8
0.5
0.3
2.1
16.2
Evan Fournier
39
28.8
41.4
38.6
74.1
0.5
2.4
2.8
1.8
1.3
0.9
0.2
1.9
13.6
Kemba Walker
24
27.3
41.4
40.3
84.0
0.5
3.1
3.5
3.6
1.4
0.8
0.2
1.2
13.6
Derrick Rose
26
24.5
44.5
40.2
96.8
0.8
2.2
3.0
4.0
1.5
0.8
0.5
0.6
12.0
Alec Burks
40
27.5
39.2
40.7
81.7
0.5
3.7
4.2
2.4
0.9
1.3
0.3
2.2
11.8
Immanuel Quickley
37
22.9
39.5
35.1
93.0
0.4
2.0
2.3
2.7
1.2
0.6
0.1
2.1
10.7
Obi Toppin
36
16.3
52.9
20.3
78.6
1.1
2.8
3.8
1.1
0.8
0.3
0.5
1.5
8.0
Mitchell Robinson
37
24.9
78.4
0.0
55.6
3.4
4.6
8.1
0.5
0.8
0.5
1.6
2.6
7.7
Quentin Grimes
23
13.5
38.1
37.5
62.5
0.2
1.2
1.4
0.9
0.6
0.5
0.2
1.1
4.7
Kevin Knox
12
9.1
38.5
37.0
70.0
0.6
1.2
1.8
0.2
0.4
0.2
0.1
0.4
3.9
Taj Gibson
25
19.0
49.3
28.6
76.2
1.6
2.9
4.6
0.8
0.7
0.5
0.9
2.5
3.7
Nerlens Noel
17
23.1
51.2
0.0
83.3
2.2
3.6
5.8
0.8
0.9
1.1
1.5
2.6
3.5
Miles Mcbride
16
8.9
28.8
18.5
75.0
0.1
0.8
0.9
1.2
0.2
0.5
0.1
0.9
2.4
Damyean Dotson
2
10.3
50.0
0.0
0.0
0.0
1.0
1.0
0.5
0.0
0.0
0.0
0.0
2.0
Wayne Selden
3
6.4
25.0
50.0
50.0
0.0
0.3
0.3
0.3
0.0
0.0
0.0
0.3
1.7
jericho sims
12
7.0
100.0
0.0
75.0
0.6
1.2
1.8
0.1
0.2
0.2
0.4
0.4
1.2
Tyler Hall
1
1.9
0.0
0.0
0.0
0.0
0.0
0.0
0.0
0.0
0.0
0.0
0.0
0.0
Daniel House
1
3.4
0.0
0.0
0.0
0.0
0.0
0.0
0.0
0.0
0.0
0.0
0.0
0.0
Matt Mooney
1
1.9
0.0
0.0
0.0
0.0
0.0
0.0
0.0
1.0
1.0
0.0
0.0
0.0