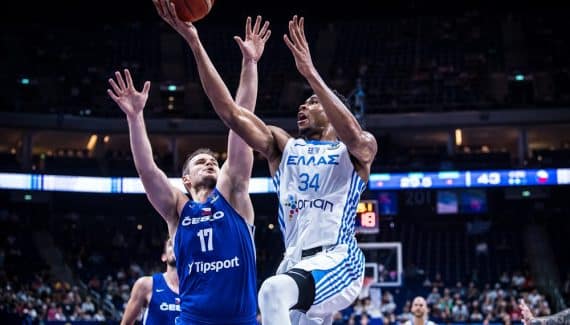 " We are one win and two losses away from the superstars. We want to be at 2-2. Gordon Herbert has a funny way of summing up his team's last weeks of competition.
The German coach is (presumably) referring to his team's dashing victory at the end of August against Luka Doncic's Slovenia in the World Cup qualifier. As well as the defeats conceded against Serbia by Nikola Jokic in a friendly then against the same Slovenes at the Euro, in the group stage.
This evening, at 8:30 p.m. (Canal + Sport 360), Germany faces another formation carried by a superstar, Greece of Giannis Antetokounmpo. The three keys to this quarter-final at home according to the technician ? " First: defense in transition is going to be very important. Second: if we can contain Giannis. I don't know how yet. I hope tomorrow (today), I will know a little more. Third: the act of playing our game."
Containing the "Greek Freak" is a common puzzle for all teams in this Euro. A competition he flies over since the Greek is the best scorer with still disconcerting efficiency: 29 points on average (56% shooting success) in… 28 minutes of play.
During the previous round, the Czech Republic thought they had found a parade by taking up a strategy that has proven itself in the NBA: "building" a wall in front of him. Basically, getting all five defenders to help close to the key to prevent him from attacking the circle and push him to shoot outside. Where he still struggles to punish consistently (20% success behind the arc).
"Our expectations go further"
A defensive choice that works on placed play only. Because as soon as the Greek accelerates and finds spaces, in particular in transition, the double MVP is simply unstoppable. Hence the importance also, for an opponent of Greece, to execute his attack well to limit these departures in transition. The Czechs, who had nevertheless contained the Greek to four points at the break, failed to stop the monster (27 points) for 40 minutes.
" We are facing one of the best teams with one of the best players in the world. Our chemistry is very good. We also have good players "recalls Gordon Herbert, who may have to deal with an incomplete group. Nick Weiler-Babb (shoulder) and especially Franz Wagner (ankle) were still uncertain, while Johannes Voigtmann (cold) had to skip training.
For hosts Germany, reaching the quarter-finals was something we had been waiting for. But as the coach says, our expectations go further. We wanted to go to Berlin, we wanted to win in Berlin. The way the guys stuck together, their chemistry, our unity is the thing I'm most proud of."