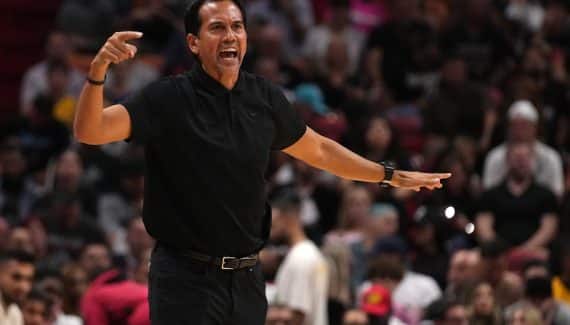 We talk a lot less about the Heat, than the Lakers or the Nets, but Miami also misses its start to the season with only two wins for five losses. Every year, no one worries about the Heat's bad runs. Quite simply because the DNA of the franchise never evolves, and the 2020 finalists rely on an almost unchanged workforce. Except that Erik Spoelstra recalls that the strength of the Heat has always been to rely on its collective, and without naming anyone, he reminds his players that individualism will not lead anywhere.
"Right now it's about the collective. How to have an impact on the group, to then have an impact on the victory? If we try to do otherwise, it will lead to an incredible amount of frustration. warns the Miami coach. "If someone is trying to do it on their own, if someone is trying to force, if someone is trying to achieve individual goals, it won't work. It won't work, one way or the other. We have to come together collectively to solve this problem and have an impact on the victory. »
"The pain of defeat will push us to evolve quickly"
Even if the team includes All-Stars, the best sixth man in title and a coach several times titled, the Heat cannot be complacent, and wait until February to really launch its season.
"We know our identity. We know we have to be competitive together, on both sides of the pitch. That's what we do when we're fully committed on defence. This is what we are going to fix. We obviously have time. There is no panic about it. But we don't want to wait. We don't want to wait any longer, especially since we already have the answers. It's just about committing fully, in a cohesive way and on both sides of the pitch. »
But Spoelstra warns that the attack too needs to be fixed. From the match against the Kings, he retained shots that were too fast and other idiots.
"We must be more consistent with our offensive identity" he concludes. "And we know what it is. We just tested and see if we could do otherwise. The pain of defeat will push us to evolve quickly. Or there will be more pain… We can keep trying, and doing it in lots of different ways that don't work. Or, then we know what works and we commit to doing it right away, and as consistently as possible."
Shots
Bounces
Players
GM
Minimum
Shots
3 points
LF
Off
Def
Early
pd
bp
Int
CT
party
Points
Jimmy Butler
6
35.1
50.6
46.7
87.2
2.2
4.2
6.3
5.0
1.3
1.7
0.2
1.3
22.7
Tyler Herro
6
32.2
43.7
32.5
88.9
0.5
6.7
7.2
3.3
1.8
0.5
0.3
2.3
17.5
Bam Adebayo
6
34.7
52.9
0.0
83.3
2.5
5.8
8.3
2.5
4.0
1.3
1.0
2.8
16.5
Max Strus
6
30.2
46.9
37.5
62.5
1.0
4.5
5.5
1.7
1.0
0.3
0.7
1.7
13.3
Kyle Lowry
6
33.5
35.1
35.0
85.7
0.3
3.2
3.5
5.3
1.8
1.5
0.3
3.2
12.0
Caleb Martin
5
27.7
42.9
41.7
100.0
2.2
2.8
5.0
1.8
0.8
1.8
0.0
2.4
8.6
Gabe Vincent
6
21.3
42.5
27.8
81.8
0.2
1.5
1.7
3.8
2.0
0.5
0.2
1.7
8.0
Duncan Robinson
6
13.2
38.7
36.4
100.0
0.3
1.8
2.2
1.3
0.2
0.0
0.0
1.8
5.5
Dewayne Dedmon
5
10.0
66.7
50.0
0.0
0.4
1.2
1.6
0.4
0.6
0.0
0.0
2.4
3.4
Nikola Jovic
2
10.7
42.9
0.0
0.0
0.5
0.5
1.0
0.5
0.5
1.0
0.0
2.5
3.0
Dru Smith
1
5.6
33.3
0.0
0.0
0.0
1.0
1.0
0.0
0.0
1.0
0.0
1.0
2.0
Haywood Highsmith
4
5.2
20.0
0.0
0.0
0.0
1.0
1.0
0.0
0.5
0.8
0.0
0.3
0.5
Udonis Haslem
1
2.3
0.0
0.0
0.0
0.0
1.0
1.0
0.0
0.0
0.0
1.0
0.0
0.0